The Best Towns, Roads, Restaurants & Vineyards
One of the most frequent questions we hear from guests new to Tuscany, "can we see Chianti in a one day itinerary?"
This could be interpreted as a trick question since there is so much to appreciate in the Chianti area, and our instinct is to say "no." However, we realize that not everyone has unlimited time or resources and they need to pack the most into a one-day itinerary.
There are three ways to approach a one day tour of this fabulous region:
an organized tour to vineyards & small towns with a professional tour leader
personalize your travels but make the traveling easy with a private driver
follow our DIY one-day Chianti itinerary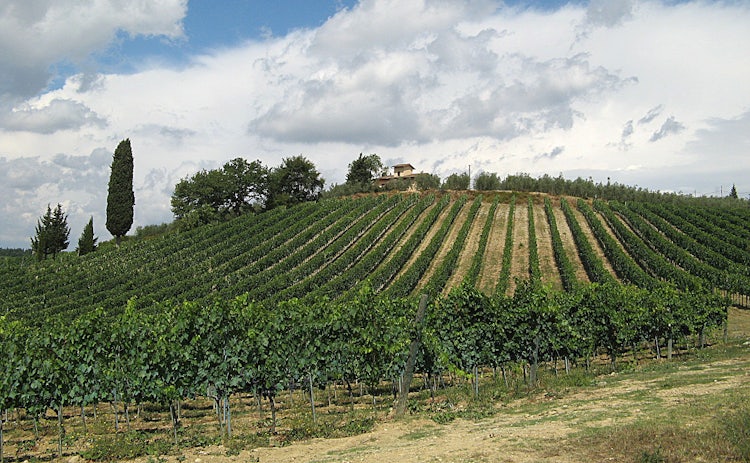 Don't Miss the Beauty of Chianti
The best way to enjoy Chianti is to make it your base for the holidays:
Chianti is one of the most beautiful hill areas in Tuscany and maybe in Italy. Renowned all around the world for its Chianti wine production, this region stretches in between Florence and Siena. The landscape is characterized by vineyards and olive groves and fortresses, parish churches and castles.
If you have just one day to spend in Chianti, here we suggest an itinerary in Chianti to get the best out of your Tuscan holiday. We include some driving instructions and times, a general map, names of small towns and the highlights to look for when you stop at each point.
Starting at the Top
Florence is linked to Chianti with the state road called "SS222", and it is commonly known as the Chiantigiana. The first town you meet is Strada in Chianti, though it has very little historic value, you can enjoy some lovely views, and if you take the deviation and stop in the town square you will find a great coffee and pastry shop (Bar Giambi) with a panoramic terrace.
The distance between Strada in Chianti and Greve in Chianti: 15 minutes, with a few tight curves
A quick side trip from Greve could include a stop to Montefioralle, an ancient medieval castle. This small fortress from the 12th century is one of the oldest towns in Chianti and well preserves its original look.
Viticcio Winery for a wine tasting.
The first suggested stop is Greve in Chianti, which is traditionally considered the gateway to Chianti. Once inhabited by the Etruscans, this town is perhaps more famous for the great explorer Giovanni da Verrazzano. He is celebrated with a statue in the main square, Piazza Matteotti. Stroll the porticos around this three-sided piazza and check out the restaurants and enotecas (wine bars).
Besides finding shops, cafes, a park for the kids, gas stations and banks this small town also has some special treats for shopping local artisan products, wine, and clothing. In fact, you are within walking distance of a Viticcio Winery for a wine tasting or our list of restaurants, check out number 4.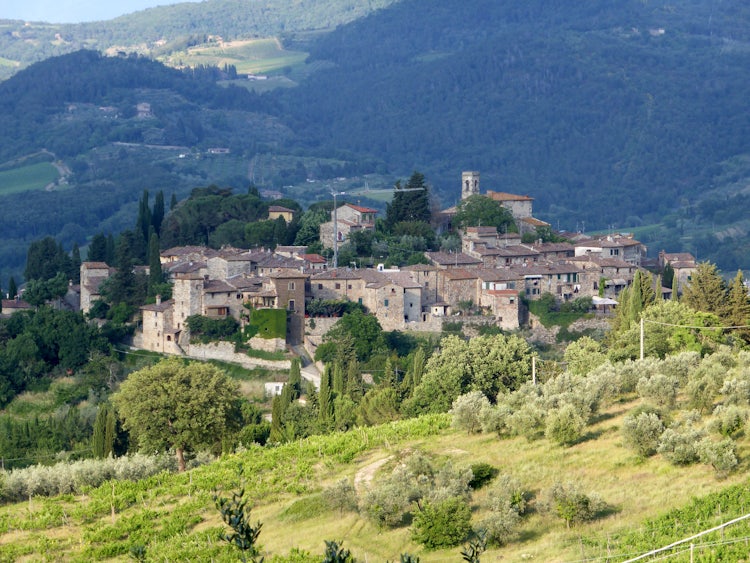 The distance between Greve in Chianti and Panzano in Chianti: 12 minutes, very panoramic with several places to stop for photos and a few tight curves
Taking time to Stroll it All
Next destination on our itinerary will take you to Panzano in Chianti. It became famous over the last few years for the butcher shop and restaurant called: Antica Macelleria Cecchini, specializing in an abundant table of fresh cut meats (especially the Florentine steak) and the owner who likes to recite Dante's Divine Comedy.
Just outside Panzano stands the charming 12th century Parish Church of San Leolino which houses precious pieces of sacred artwork
Don't be fooled into thinking that the entire town centers around the main square which is easily visible from the main street. Park the car and wander back behind the square where you will find the old fortress and church. If it about lunchtime, then this is where you will want to stop! There are a few very panoramic restaurants in the old part of the town (Restaurants in Chianti: check out number 7).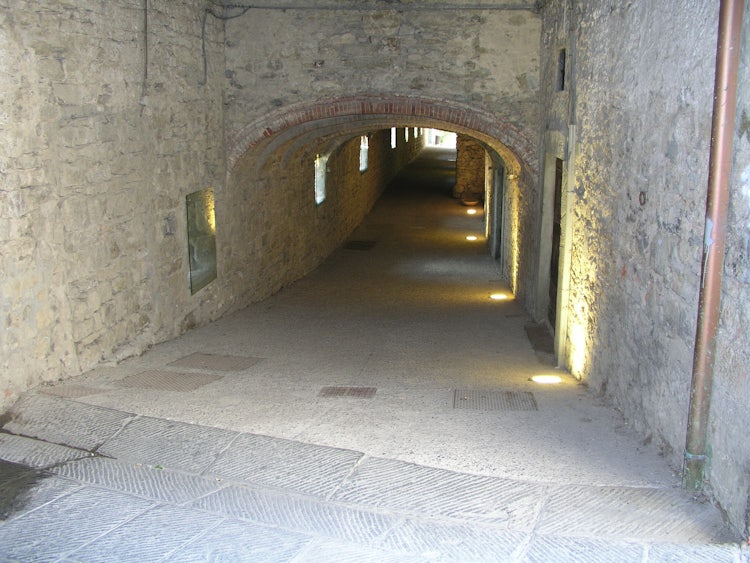 The distance between Panzano in Chianti and Castellina in Chianti: 20 minutes, some panoramic views, several areas with tight curves
You are in Siena-land Now
As you continue along via Chiantigiana you find Castellina in Chianti, which sits in the province of Siena. One of the three towns in the original League of Chianti, Castellina has Etruscan roots and has always played an important role in the battles between Florence and Siena.
The majestic Fortress in the main square and the massive walls are visible signs of its glorious past. Don't miss Via delle Volte, where you can admire a hidden street with shops and enotecas (very romantic), and the Archeological Museum of Senese Chianti which includes a visit to the tower for some awesome panoramic views.
The distance between Castellina in Chianti and Poggibonsi: 35 minutes, though you will find several panoramic views - there will be little else on this stretch of road except for several areas with curves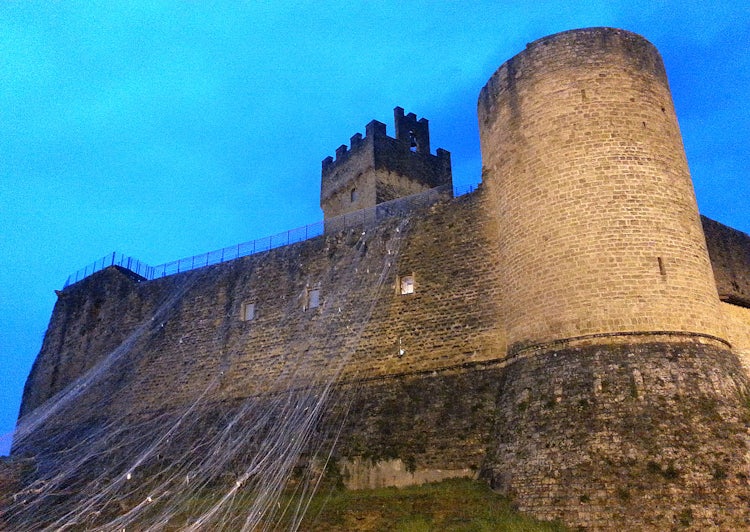 The nest stop on our itinerary is Poggibonsi and it is a thriving town where you will find shops, restaurants, gas stations, a park for the kids to stretch their legs, banks, and cafes. Our suggestions for visiting this area keeps you out of the town center but puts you in the heart of some special monuments like Poggio Imperial, the Medici fortress, and the Castello di Staggia. You may have left the area classified as "Chianti Classico" - but that doesn't mean that you won't find several excellent options if you want to add wine tastings in Chianti.
Going South
It is easy to swing south and cover Monteriggioni and Siena (45 minutes driving time) instead of going north to Florence. After a visit to the Piazza del Campo and the Duomo of Siena, simply catch the Firenze-Siena highway (1 hour and 15 minutes driving time).
Heading Home Thru the Vineyards
You are now on the upswing back towards Florence, but there are still several places you can stop for the small town flavor and great Chianti panoramic views. This side of Chianti is characterized by a patchwork of vineyards, olive groves, and a lot fewer curves. Plus, the vistas seem to be more open, not closed in by the Chianti hills. It may even seem less "touristy", but again, don't be fooled, this area abounds with things to do and places to see.
The distance between Poggibonsi and Barberino Val d'Elsa: less than 15 minutes, fairly straight stretch of road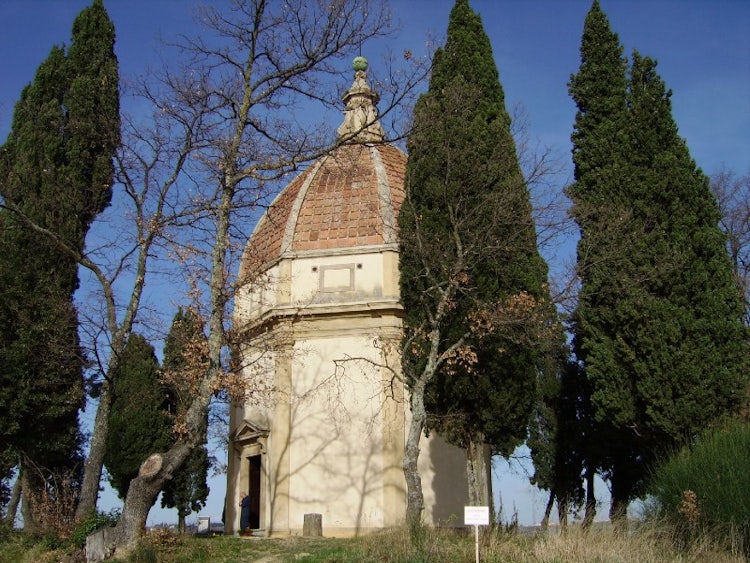 Extra Time?
The Chapel of San Michele in Semifonte near Petrognano. The chapel is also called the Duomo of Val D'Elsa (1567) and symbolizes the glorious and sad past of Semifonte, that was razed to the ground from Florence around 1200.
Another side trip could be to the lovely church of Sant'Appiano
You will be following the SR2 from Poggibonsi towards Florence, and the first stop is Barberino val d'Elsa. If you opt for a quick stop here, enter from the well-conserved Sienese Gate, where there are several beautiful buildings with beautiful wooden doors and clean stone walls, said to be built from the rubble of Semifonte. Barberino is strategically positioned on the crossroads leading towards the via Francigena, which meant that the locals were geared to receive and care for travelers (l'Ospedale dei Pelligrini).
The next town you will encounter on this route is Tavarnelle Val di Pesa, where you can visit the Church of Santa Lucia al Borghetto, a rare example of Gothic architecture. Outside the center stands the particular Parish Church of San Piero in Bossolo that hosts the Museum of Sacred Art.
The distance between Barberino Val d'Elsa and Tavarnelle Val di Pesa: about 6-7 minutes
Last Stop in Chianti?
Only if you want it to be, there is so much to see in this area. We suggest you stay on the back roads for this last piece of the itinerary, to enjoy to the fullest the scenery. Continuing towards Florence you arrive in San Casciano Val di Pesa, the last town of Chianti; it features a delightful center with shops and restaurants. Few kilometers far there is the Albergaccio of Sant'Andrea in Percussina, today a famous wine cellar situated in the house where Niccolò Machiavelli lived.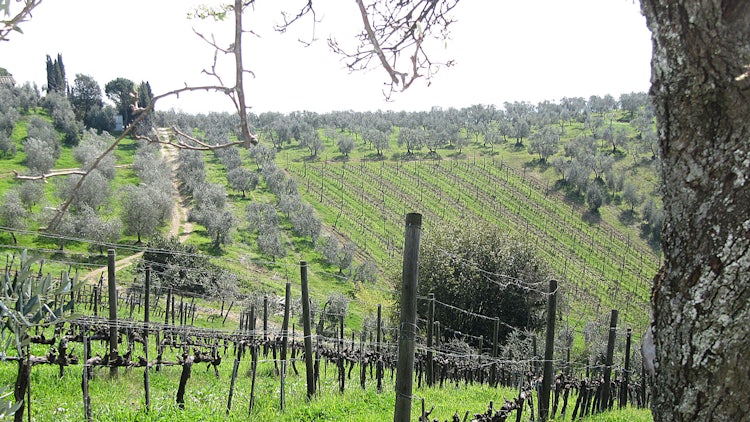 Enjoy your one-day itinerary of Chianti at a leisurely pace, adding some of the extras or just admiring the main course. We can assure you that this path will take you on a beautiful day trip in Chianti.