The Flavors of Chianti without Getting Behind the Wheel
What are your options if you don't have a car or you simply don't want to mix drinking & driving?
You essentially have three alternatives to touring Chianti which don't include getting behind the wheel. The choice to leave all the planning in the hands of a professional, who knows "the" place to go for the best wines, photos and experience is definitely your stress-free option: all you need to do is be ready for your tour pick-up. Reaching wineries using public transport means a bit more planning and a tighter time schedule but it does come with some satisfaction!
Along the lines of do-it-yourself, you can always opt for an NCC (car with driver) and just give him or her your itinerary - leave the navigating to them and forget about watching the bus times.
Below we have a few pointers and our top choices in tours and easy to visit vineyards to visit so you to get the most out of Chianti, its vineyards and olive groves and the scenery.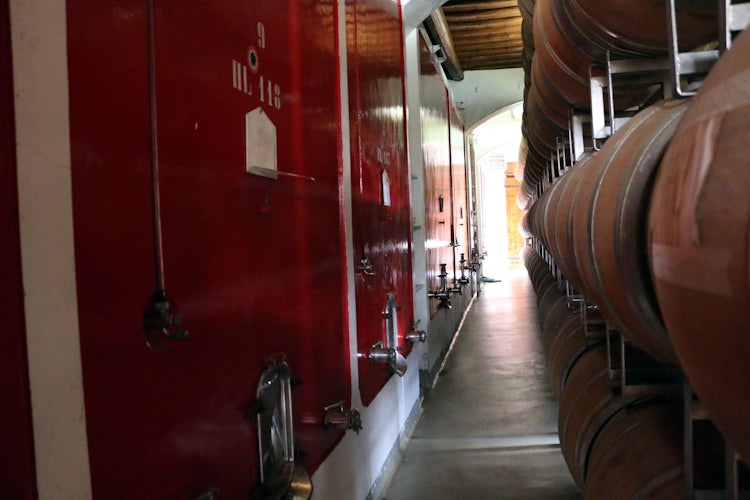 Just Making it Easy
You always have the alternative of joining an organized tour and we have several to recommend: interesting, quality organized tours that drive you around Chianti and Tuscany including the wine tastings, a lunch, dinner or light snack, and many will also include popular cities and sights.
These tours are an excellent choice for everyone, even those who were thinking of a wine tasting with a car because:
no navigating the Tuscan curves, back roads, and Italian drivers
everyone gets to drink
everyone gets to sight see and enjoy the scenery
you get fast tracked in for your tasting and tour
have an authority of the area at your disposal for questions and insider information while driving around the countryside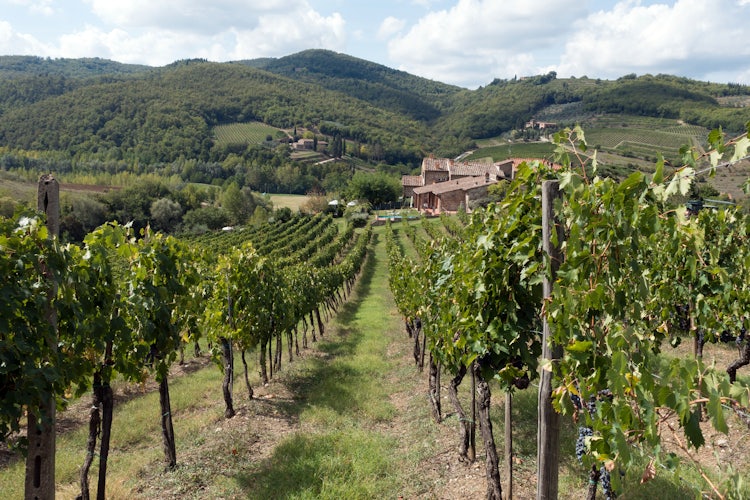 Our partner Viator organizes guided tours for wine tasting in the Chianti region as well as to Montepulciano and Montalcino (with departure from either Florence and Siena). You can find the full list of tours here (includes small groups as well): Wine Tasting Tours in Chianti & Tuscany.
Among the most popular guided tours, we recommend these:

Do-it-Yourself Tour
If you are a "do-it-yourself" kind of person and want to organize the wine tasting on your own, without a car, here are a few ideas of wineries that are popular and can all be reached by taking the bus from Florence. They all require a short walk but, in Chianti - it is always worth it! Any one of these would make an excellent addition to an itinerary with a driver as well.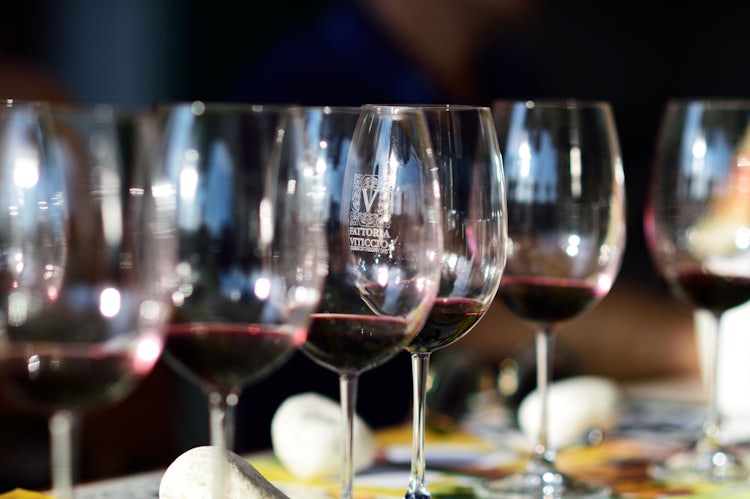 1. VITICCIO
(Greve in Chianti)
If you are looking for award winning wines, stunning landscapes and a knowledgable guide, then you can't do better than this small little vineyard just a short walk outside of the town center of Greve. If you want to know why we are so excited about this vineyard, then read our review.
2. CASTELLO VICCHIOMAGGIO
(Greve in Chianti)
Located in Greve in Chianti, about 20 km from Florence, Castello Vicchiomaggio is an elegant historic castle where almost daily guided tours and tastings are organized. For more information and reservations, visit the official WEBSITE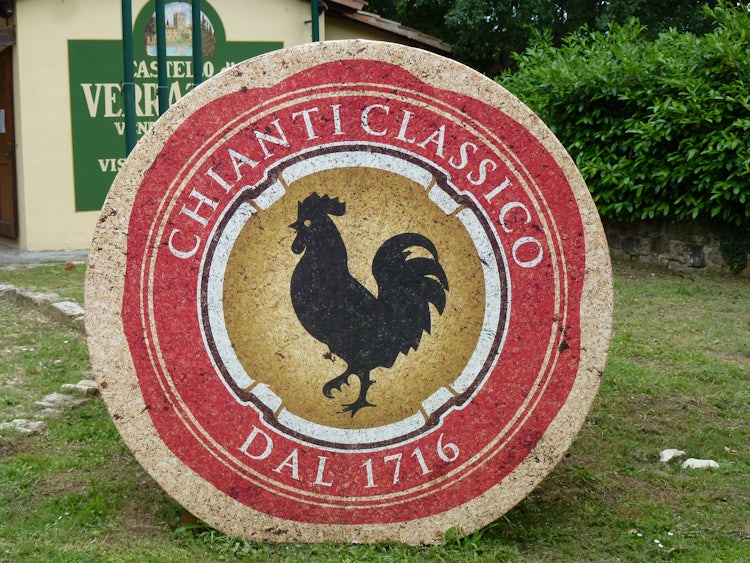 3. CASTELLO DI VERRAZZANO
(Greve in Chianti)
At the Castello di Verrazzano, you can visit the historical cellars, discover the rooms of the villa and taste wines, extra virgin olive oil and Vin Santo, in addition to purchasing their wines. Visit the official WEBSITE for more info.
4. AGRICOLA UZZANO
(Greve in Chianti)
Located practically in the city center of Greve, this traditional Tuscan farmhouse hides a wine cellar and spacious tasting room. The viticultural estate of Castello di Uzzano, has more than 30 hectares of vineyards, which cover the northern slopes of Greve in Chianti, rising to the Castle at the top of the hill. They offer 5 wines (4 reds and one white wine), a grappa and a vin santo. You can visit the vineyards if you are up to a short hike or you can enjoy a typical Tuscan meal with their wines (upon request only). For convenience and ease - this vineyard gets 4 stars. The bus stop is practically in front of the main entrance. The WEBSITE doesn't really give you much info...but you can send them an email for directions and reservations.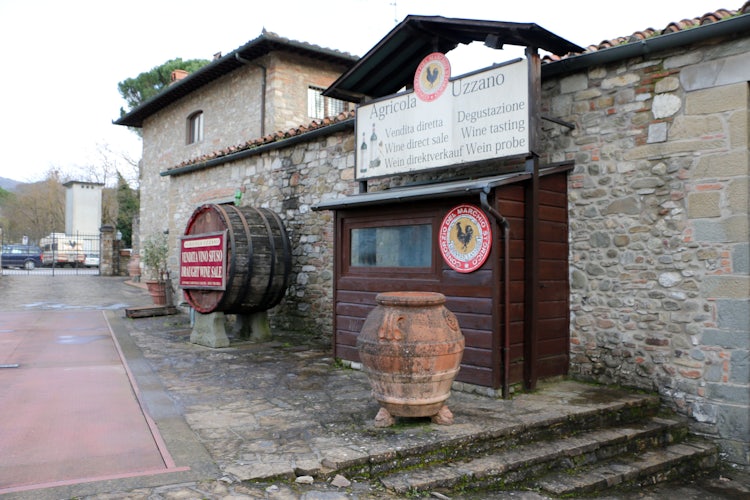 5. TORRE A CONA
(Rignano sull'Arno)
Torre a Cona is a beautiful villa and lovely wine resort in Rignano sull'Arno. It offers tastings of wine and their Tuscan products in the old barn on the farm, which today houses the wine shop. The tastings and tours of the farm (the cellars and gardens of the Villa) are done by appointment. The bus runs regularly and it takes about an hour from the city center of Florence (number 353 A Find all contact info on the official WEBSITE.
6. VILLA MEDICEA DI LILLIANO
(Grassina, Bagno a Ripoli)
This magnificent villa and estate offer a wine tour that includes the panoramic terrace towards Florence, unique "winter" garden, historic cantina and olive groves. The family run estate di Lilliano is rich in history and ambiance, if you have time for one only ... this is the closest to the city center and definitely impressive. You can arrive in Grassina with either the local bus (ATAF 31 and frequent runs, almost every 15 to 20 minutes) or the regional bus (SITA 365), it is a steep walk up to the estate...but it is only 1.5 km and in a calm residential area with hardly any traffic. For abmiance & the historic cantina - this vineyard gets 4 stars. More information or reservations, check out their WEBSITE.