The expression Chianti Classico suggests the oldest and most genuine area in the Chianti region. As a matter of fact Chianti is a vast area in Tuscany and is divided into 7 sub-zones, each one producing its Chianti wine with a specific name and label.
Chianti Classico stretches between Florence and Siena and includes only 14 municipalities: the whole territory of Greve in Chianti, Castellina in Chianti, Gaiole in Chianti and Radda in Chianti, and part of the territory of Barberino Val d'Elsa, San Casciano in Val di Pesa and Tavarnelle Val di Pesa within the Province of Florence, and part of the territory of Castelnuovo Berardenga and Poggibonsi in the province of Siena.
The Black Rooster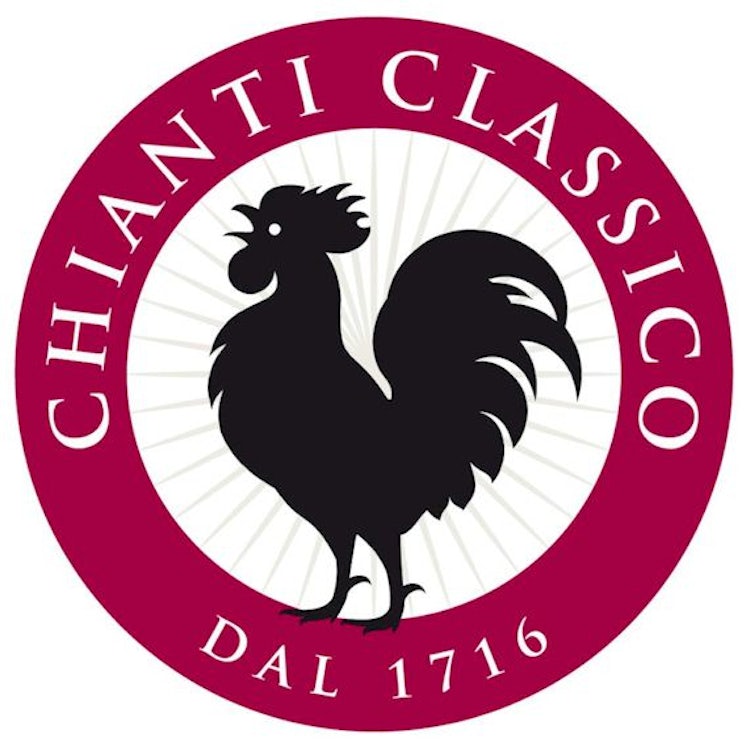 The Chianti Classico seal, recently changed in 2013, is a black rooster (Gallo Nero in Italian) on a white background with a bordeaux colored frame.
Legend has it that in 13th century Florence and Siena decided to use a horse race to end their land dispute over Chianti. The meeting point of two knights, who had left respectively from Florence and Siena when the rooster sang at dawn, would mark the new borders of their territories. The Florentines selected a black rooster and kept it for a few days in a box with no food. On the day of the race, when they took the rooster out of the box, he sang much earlier than dawn. Thus the Florentine knight left before the Sienese rider, meeting him only him only 20 km from Siena walls. Since then the black rooster has been the symbol of Chianti: first of the Chianti League in 13th century and then of the Chianti Classico Consortium.
Celebrating 300 years in 2016
This small wine-region produces perhaps one of the best-known and appreciated wines: the Chianti Classico Wine. Wine has been produced in this area for over 2000 years, since Etruscan time. This Tuscan region was named Chianti and recognized as a wine-region since 13th century and its borders were defined in 1716 by an edict issued by Gran duke Cosimo III de' Medici.
What makes Chianti Classico so unique compared to other Chianti wines is the unmistakable pink label with the Black Rooster seal. This particular label is the symbol of the Chianti Classico Wine Consortium, founded in 1924 to protect, promote this wine and prevent wine fraud.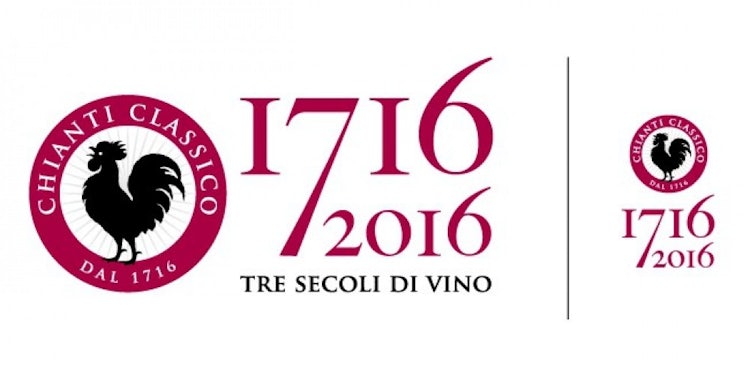 What Makes it Chianti?
Chianti Classico is a DOCG wine and shows unique peculiarities and characteristics. Simply said, it is not enough to be produced in within the Chianti region to be called a "Classico". In fact Classico wine has to respect specific rules. Its blend is 80% of Sangiovese, the red grape typical of this area, 20% of other grapes which include native grapes such as Canaiolo and Colorino, as well as other international varieties such as Cabernet Sauvignon and Merlot.
Its characteristics are a limpid ruby red color, floral notes for its odor and a harmonious, dry and sapid flavor with a good level of tannin. The minimum alcohol level should be 12 degrees.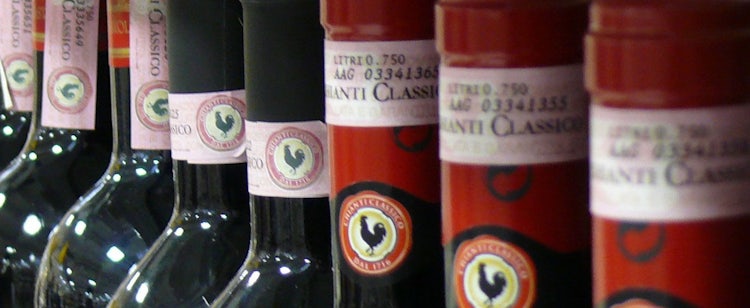 The best Sangiovese grapes are used to produce Chianti Classico Riserva, a particularly esteemed wine. Riserva wine has a deep ruby red color and requires a minimum maturation of 24 months including three months of bottle fining, as well as 12,5 degrees as minimum alcohol level.
In 2014 a new category of Chianti Classico was introduced: Chianti Classico Gran Selezione. Gran Selezione is made exclusively from a winery's own grapes grown according to stricter regulations compared to regular Chianti Classico. Gran Selezione is granted to a Chianti Classico after it passes a suitability test conducted by authorized laboratories and after it is approved by a special tasting committee.
Someone said that when you taste Chianti Classico wine, you'll never forget it ... try it and see if they are right!