Plan on Tasting the Best of Chianti
Wine is undoubtedly one of the most typical of products "made in Tuscany" and of such high quality and excellence as to be known, appreciated and exported all over the world.
When it comes to Tuscan wine, thoughts immediately fly to the area of Chianti, one of the most renowned production areas for its tradition and quality of its wines.
If you love wine, Tuscany offers the opportunity to taste prestigious labels and great vintages, often combined with other local specialities that will also delight your palate (as well as help avoid any dizziness associated to your first sips). So if you have a car and wine tasting on your itinerary while spending time in Tuscany, we're here to offer some suggestions as to where to go. If you are traveling without a car or prefer the idea of leaving the driving to someone else while you enjoy the flavors of Chianti then we have some suggestions for wine tasting without a car.
You can do a wine tasting at all wine bars (called "enoteca" in Italian) as well as enjoy a tasting organized at restaurants which, combined with a full-course meal, will give you the chance to appreciate each wine at its very best. And for a well-rounded experience, go directly to the wineries that produce the wine. Tasting their wines on the spot and maybe visit the winery and vineyards is an awesome opportunity that I recommend to everyone (unless you don't drink, of course, but the visit to the estate might still be fun)!
Let's Pull out a Map of the Wine Region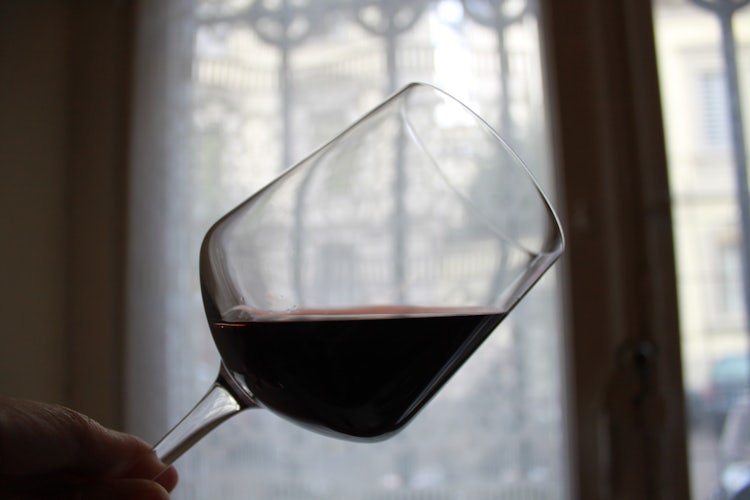 First of all, let me offer some general information on the area of Chianti, to clarify where it is and what exactly is meant by the term "Chianti".
Historically, the Chianti wine region was a small area, which included only the towns of Radda in Chianti, Castellina in Chianti and Gaiole in Chianti.
Today, the wine region also includes the areas of the towns of Castelnuovo Berardenga and Poggibonsi (which are in the province of Siena), San Casciano Val di Pesa, Tavarnelle Val di Pesa, Greve in Chianti, and part of the town of Barberino Val d'Elsa (which are all in the province of Florence). These towns all represent the area of wine production called "Chianti Classico" (which is recognizable by the Gallo Nero, or Black Rooster logo).
But the Chianti wine area extends much further beyond the area of Chianti Classico. From a geographical point of view, Chianti lies between the provinces of Florence, Arezzo and Siena, so you hear also of Chianti Colli Fiorentini, Chianti Colli Senesi and Chianti Colli Aretini, just to name a few of the additional areas (the names mean Chianti of the hills of Florence, of the hills of Siena, and the hills of Arezzo, as a literal translation).
So you can do wine tastings in a very broad area! Aside from Chianti Classico, I would recommend trying out the wineries closest to you, wherever you are staying in Chianti.
Logistics: some farms or wineries require advance reservations for tastings or winery tours, while others are prepared for drop-in visitors (I would still advise to at least make a phone call first in the case of small wineries).
A car (and a designated driver that won't be tasting or drinking) will certainly be useful for moving around in most cases, but below I'll also suggest a few places you can reach with public transport. Let's get started!
Where to go in Chianti for wine tastings?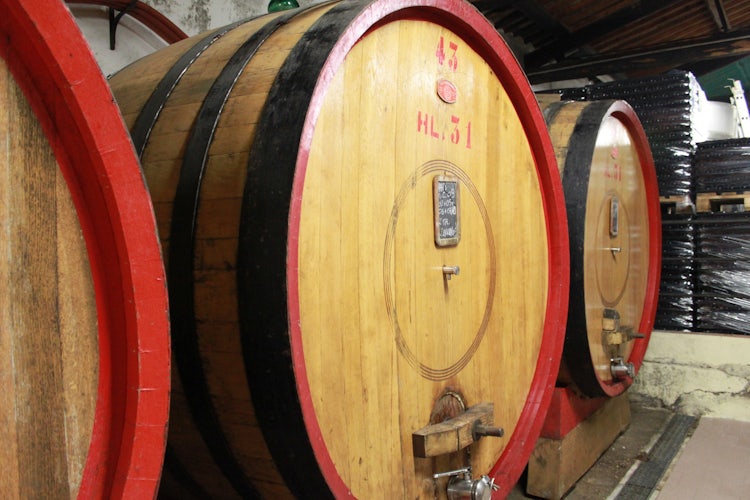 Within the "Chianti" Classico area
Those staying in Siena or Florence (or in the provinces of Siena and Florence) can easily reach the farms and wineries in the Chianti Classico area. Below is a list of well-known wineries/wine shops you can visit directly with your own (or rental) car:
VITICCIO (Greve in Chianti)
At the Viticcio winery estate, you can do wine tastings every day of the week, these are set up by appointment. Just call and you'll be able to arrange a visit at the time that best meets your schedule.
This is a family-run winery, so most likely you'll find a family member guiding you on the journey into the world of wine, starting from their vineyards to the winery before moving on to the tasting of their wines, which you can choose to buy afterward as well. Read more details about their wine tastings and tours on their official website.
→ CHIANTI CLASSICO, MONTALCINO & MONTEPULCIANO ←
If you're feeling adventurous and want to visit the three beautiful Tuscan wine regions of Chianti, Montalcino and Montepulciano all in a day, we don't recommend to do it on your own but to take a guided tour such as this small group one (max 8 people). You'll enjoy the drive to Greve, Castellina and then on past Monteriggioni, and Montalcino and Montepulciano, the wines and a delicious lunch without having to worry about the driving. It is a long day, but you get to see a lot of Tuscany in one day dedicated to the most famous of its wine regions.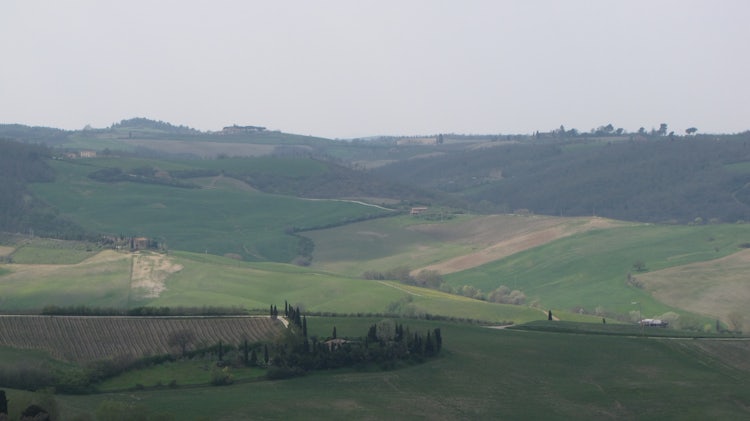 CASTELLO DI BROLIO (Gaiole in Chianti)
The Enoteca del Barone Ricasoli is open for tastings, both for individuals or for groups, both upon booking. Here, in addition to being able to taste and purchase the Ricasoli wines, under the guidance of the staff enoteca you can also buy quality products of the territory, such as honey and olive oil.
If you DON'T have a car or don't want to drive and enjoy your wine tastings, you can still visit Castello di Brolio from Siena through this guided tour, which also takes you to Castello di Meleto, includes lunch and a visit to a third winery in the afternoon, as well as time in a local village. It is a whole day tour (8 hours).
In some periods of the year, the winery is closed on the weekends. Check more details on the official website.
→ CHIANTI WINE TASTING WITH TRIP TO SAN GIMIGNANO
If you're based in Siena, I'd recommend this small group half-day afternoon guided tour to San Gimignano and Castellina with a winery visit just outside Castellina in Chianti.
→ MONTERIGGIONI, SIENA AND SAN GIMIGNANO WITH WINE TASTING
Here's another great private guided tour from Florence to Tuscany's top destinations which includes wine tasting in Chianti. Minimum of 3 people to activate the tour.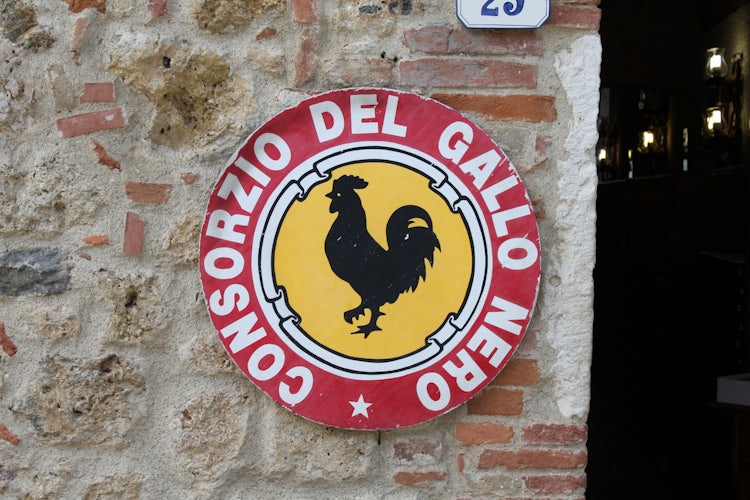 THE CASA DEL CHIANTI CLASSICO (Radda in Chianti)
Opened in June 2014 within the former Convent of Santa Maria al Prato in Radda in Chianti, the "Casa del Chianti Classico" is the first "house of wine" for the Chianti Classico Wine Consortium. The "Casa Chianti Classico" offers the chance to taste and buy from the largest collection in the world of Chianti Classico labels, and offers a terrace with a view to enjoy a lunch or dinner and many events, courses and exhibitions dedicated to wine. Most of these are concentrated in the summer months, unfortunately, but the wine shop and terrace is open year round. For more information, visit the official website.
Around and closer to Florence
If you're in Florence, you'll find you don't need to go far for wine tastings! In the surrounding areas, we recommend the following wineries (these are still best reached with your own means of transport, as public tranportation is very limited or not available).
TORRE A CONA (Rignano sull'Arno)
Torre a Cona is a beautiful wine resort in Rignano sull'Arno. It offers tastings of wine and their Tuscan products in the old barn on the farm, which today houses the wine shop. The tastings and tours of the farm (the cellars and gardens of the Villa) are done by appointment. Find all contact info on the official website.
DIANELLA (Vinci)
Set on the hills of Vinci, known as the city of Leonardo, Fattoria Dianella has over 25 hectares of vineyards. Here, Francesco and Veronica Passerin d'Entrèves follow the entire wine-making process, from growing and harvesting their vineyards to the vinification process in the winery and aging in the cellars below the Medici-era villa. In the cellars, they have created a small museum dedicated to showcasing all steps of wine production.
Fattoria Dianella opens its doors to visitors, welcoming them in the cellar where one can see the different areas of the winery until you get to the wine shop for a tasting of their wines. On request, it is also possible to visit the vineyards. Just call ahead to more or less book a time, to make sure there are no other groups at that time and you can get a personal visit. They make it their priority to receive guests with a warm welcome and love sharing their beautiful cellars. Tastings of two wines is 12 euro; if you add local cheeses, salami and bruschetta then it is 18 euro.
For more information, visit the official website.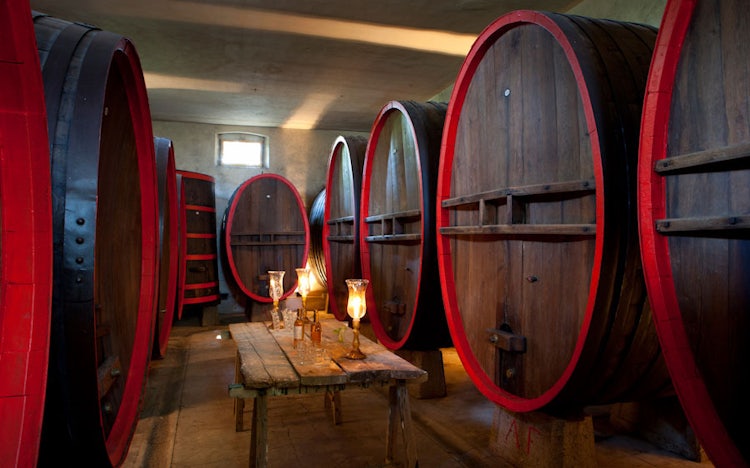 FATTORIA IL LAGO (Dicomano)
Located in Mugello, about 30 miles north of Florence, Fattoria il Lago organizes guided tours to their winery and tasting of their wines, including their Chianti Rufina DOCG wine and extra virgin olive oil.
For information and bookings, visit the official website.
IL TREBBIO (S. Brigida)
Built by the infamous Florentine family de 'Pazzi, Trebbio Castle is located on the hills of Florence just outside the town of Santa Brigida. They offer organized tours of the cellars, wine tastings and a light lunch for both individuals and groups. Visit the official website for more details.

Tastings in Chianti near Arezzo
The Days of Wine in the province of Arezzo: every Wednesday and every Sunday from April to October wine producers in the province of Arezzo organize an event dedicated to their local Chianti wines, open to all, which include tastings of wine and local specialties. You can read more details anda dates in our article here.
Last but not least - enjoy your Chianti wine tastings - and remember to not drink and drive! ;-)