5 Very Good Reasons why Viticcio Should be Your First stop in Chianti Classico
An invite to visit a vineyard is never turned down. So when Viticcio extended an invitation to the vineyards, wine cellars and a follow up with a guided wine tasting at Viticcio vineyards I was exceptionally enthusiastic.
Who wouldn't be? Especially when they have a tendency to consistently improve the quality of their wines every year and have the international acclaim to prove it. This is the result of a combination of having good land, grapes and the "know-how" to bring it all together.
A wine's high quality begins in the vineyard. Only by respecting the land are we able to grow naturally wonderful grapes to make an exceptional product.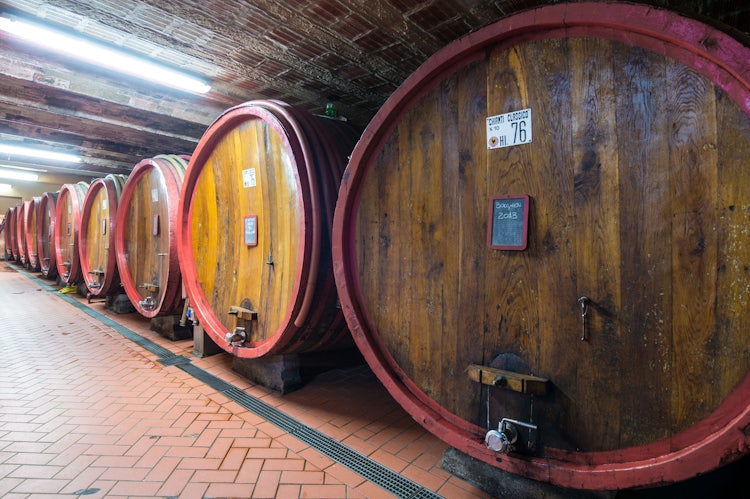 Book Your Wine Tour with Viticcio
Walking around the traditional Tuscan farmhouse looking for the reception office, I noticed just how quiet the vineyards were... but the winery was humming with activity. Peeking in the wine cellar (possible since the door was ajar), I could see the Viticcio team working at adjusting this and fixing that... the harvest was still percolating as far as they were concerned.
I met first with Lorena, the on-site sommelier and the person responsible for the wine tours. She invited me to follow her through her early morning routine of checking out the operations before meeting up with the wine making team as they discussed the harvest and fermentation.
The fall colors were enchanting as they began to appear in the vineyards (thanks to a bit of a nip in the temps), and the fragrance of the earth (better known as terroir on a vineyard), grapes and falling leaves was in the air. Lorena led me through the various stages of fermentation and once again the scents were invigorating and divine.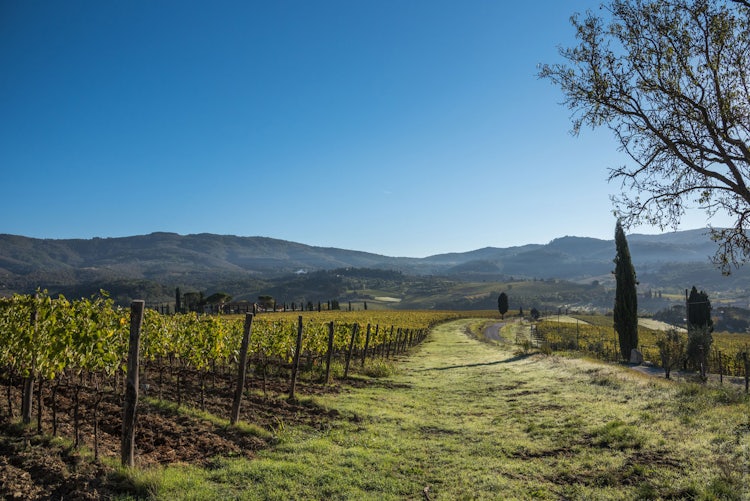 After a brief interview with Lorena and Chiara, we settled into the dedicated wine tasting room where they plied me with olive oil, local cheeses and cold cuts and of course, their wines! The Viticcio team was on a particular high because they had just gotten word that James Suckling awarded their Chianti Classico Prunaio Gran Selezione 2013 with an unheard of 94 points.
Reserve your wine tour at Viticcio
I am looking forward to tasting the next series of award winning wines and olive oils... and brought home a couple of bottles in the meantime!
1. Easy to Get to
A Review of Viticcio
Viticcio is a family run vineyard which, while respecting the tradition of Chianti Classico, brings a fresh new and international perspective to growing grapes and making wine with a passion.
If you are determined to do a little wine tasting on your own, without the benefit of an organized tour, Viticcio is, in a word, ideal.
Located in the heart of Chianti Classico you can arrive by car or without a car easily. Positioned in the hills just outside of Greve, the Viticcio vineyards command a prime position above the valley, with panoramic views 360°.
The 1.5km hike starts off through town, and before you know it you are climbing a slight hill and completely surrounded by the traditional Tuscan landscape: rows and rows of grapes, patches of olive groves and even a castle brooding in the distance. You won't find a better photo opportunity!
2. Family Run Wine Estate with Young Team
Viticcio has big dreams: high quality wines that express the Chianti Classico, Maremma, and Bolgheri territories with a classic yet fresh style.
The team at the helm of the Viticcio vineyards will pass on their enthusiasm and dedication to producing wines that are the best that the terroir can produce, this emanates from them when you visit the estate.
The family started with this 30 hectare farm just outside of Greve and have slowly expanded to include vineyards in both the Maremma and Bolgheri territories, two totally different Tuscan wines but both with a long and studied tradition of excellence.
The entire team at Viticcio is determined to breathe a fresh new energy into the grapes, wines, the label and their market. Lorena explained that, "Our guests at the agriturismo at Viticcio are our best publicity. Taking them around the vineyards, having them see first hand the fermentation process, the hand selection of the grapes at harvest and then following up with a guided wine tasting converts our guests into our best clients. They now feel the wine as much as we do."
Viticcio at a Glance:
Type: Chianti Classico Wines
Location: Greve in Chianti, 20 minutes by foot
How to Arrive: by car or public transport from Florence to Greve, then walk 1.5km
Bottles: approx. 250,000
Labels: Viticcio (Chianti Classico DOCG, Viticcio Riserva (Chianti Classico DOCG, Prunaio Gran Selezione (Chianti Classico DOCG), Monile (Toscana IGT),Bere (Toscana Rosso IGT), Per Camilla (Grappa Riserva del Chianti Classico), Dolce Arianna (Vin Santo del Chianti Classico DOC)
3. Vineyards, Wine Cellars & Tasting: blend your own Chianti Classico
It is clear that the team at Viticcio want others to become as passionate as they are, and their young and energetic attitude embraces all kinds of new possibilities. So along with the regular wine of tours which include a visit to the vineyards (weather permitting), a tour of the newly restructured cantina, their aging cellars and of course a wine tasting, Viticcio has added a few interesting possibilities over the last few years.
For those who are just as enthusiastic about wine as the team is, there is the possibility to live the dream with them. Their most exclusive tour and tasting takes you behind the scenes for a two and a half hour adventure at Viticcio. Taste wine directly from the barrels, create your own blends, and then take home a bottle of your personal wine... and, if you want, you can even make a blend, age it on the estate and take possession of the entire barrel when the process is complete!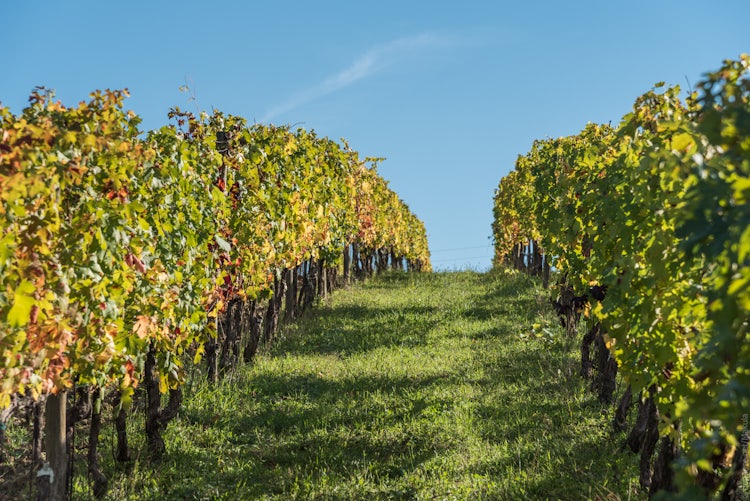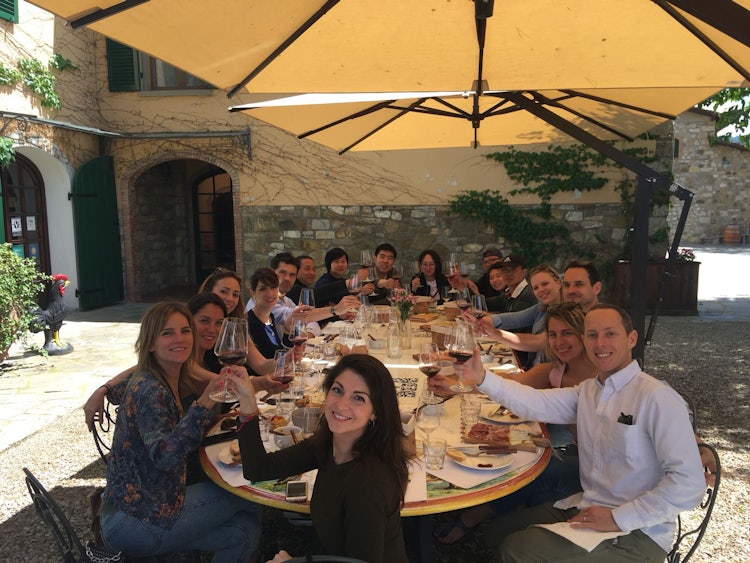 4. Guided Tour with a Sommelier
I believe we can agree that not everyone can taste the "hints of mocha espresso, smoke and French oak" lingering in the glass. And believe me, many producers will tell you to simply drink what you like… even if it doesn't come with a 5 star review from Wine Spectator. And really, if you like it, then it is all good.
Then you have that group of people who love to learn all the nuances of what they are drinking... they want to understand why is it that "authorities" like Vinous and James Suckling find reasons to award such high points for the Chianti Classico at Viticcio? (That would be me…. the Italians call me "una curiosa nata" - the equivalent to Curious George in English).
This means when you have someone who is knowledgeable about the vineyard and a sommelier, it helps your learning curve. Lorena and Chiara are both and very personable, making the visit pleasant and informative.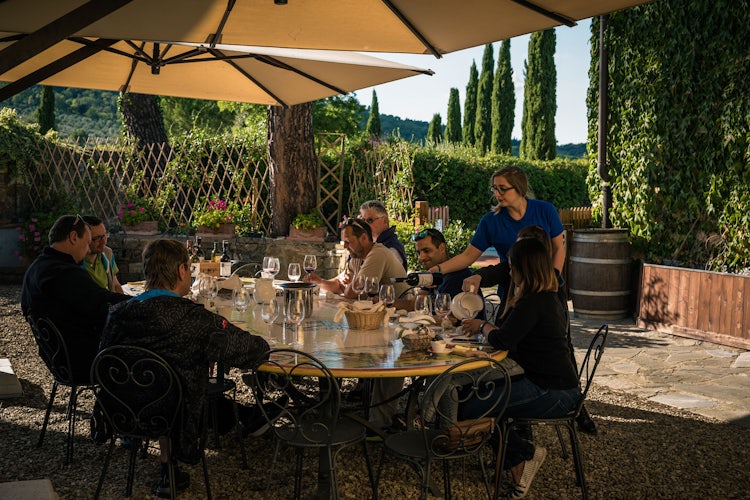 Make Your Own Chianti Classico Blend at Viticcio
5. Award Winning Flavors
The proxy at Viticcio has always been the authentic flavors of Sangiovese, making use of the traditions, the climate, the soil and more specifically the micro-climate on their 30 hectare patch of Chianti Classico land. Perhaps this is one of the reasons why they are constantly making headlines on the international market.
Since 2003, eight hectares of vineyards are cared for using bio-dynamic methods; and since 2013, their entire production has been totally organic. And then maybe this is another reason why their wines are some of the best...
We honor the treasured traditions that teach invaluable wine-making knowledge, and we balance this with innovative technologies.
Don't wait, book your visit to Viticcio during your time in Tuscany. Note that all wine tastings and winery tours need to be booked in advance.
This is a Sponsored Article but reflects the honest opinion and experience of the author. More details »