Not just good wine, but great wine
In addition to splendid landscapes, Chianti's popularity is also directly tied to its fine red wines produced in the region and known generally as Chianti wine. The Chianti region, extending roughly over the two main city provinces of Florence and Siena, is characterized by a combination of almost perfect weather and soil that produces a precious wine considered one of the best wines around the world.
The tradition of cultivating vines in Chianti goes back a long time in history, back to the Etruscans that inhabited the area before the Roman empire. Thanks to written evidence dating back to these times it is now known that the Etruscans not only cultivated vines and conducted experiments on grafting and creating hybrids but also produced wines that were widely appreciated. Many will recognize the straw covered bottles as being a classic symbol for the Chianti wines, but these bottles are hardly ever used unless perhaps the producer is making a vintage style.
When did Chianti Begin
In 2016, Chianti celebrated 300 years of "official" wine making. It was in 1716 that Cosimo III, Grand Duke of Tuscany, officially delimited the production zone of Chianti wine. Designing new boundaries, and consolidating historic ones, to create what we now know today as Chianti. With a few additions along the way, it has changed very little only recognize areas that were not included in the Grand Duke's first definition of Chianti. However, it wasn't until the creation of the Consortium for the Protection of Chianti wine that we first see the trademark the: Black Rooster.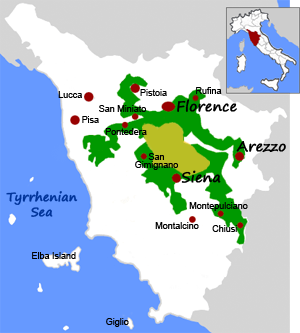 Chianti Denominations
Just what does it mean: Chianti denomination or appellations?
It is is a legally defined and protected geographical indication used to identify where the grapes for a wine were grown; other types of food often have appellations as well.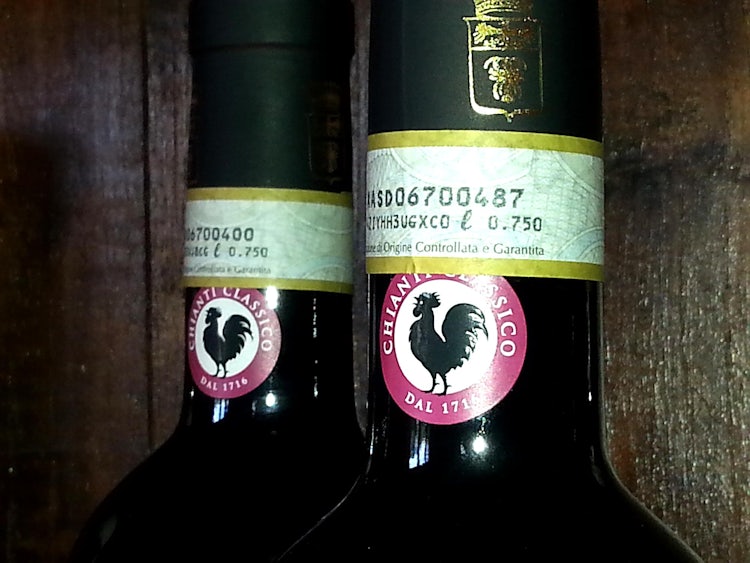 In 1932 the Chianti area was completely re-drawn and divided in seven sub-areas: Classico, Colli Aretini, Colli Fiorentini, Colline Pisane, Colli Senesi, Montalbano and Rùfina. Today, Chianti wine, depending on the area of production, is divided and recognized with the following 8 denominations - all called Chianti + the denomination:
"Classico", the more well-known of the Chianti wines. Production is limited to area between Florence and Siena, as seen in lighter green area on the map to the right.
"Colli Aretini", hills towards Arezzo
"Colli Fiorentini", hills around Florence
"Colli Senesi", hills around Siena
"Colline Pisane", hills towards Pisa
"Montalbano", area in the Montalbano hills around Pistoia
"Montespertoli", hills around Montespertoli
"Rufina", area of hills near Rufina to the east of Florence
In 1984, Chianti obtained the denomination D.O.C.G. (Denominazione d'Origine Controllata e Garantita, or Controlled and Guaranteed Denomination of Origin), which is the highest type of protection and recognition for quality Italian wines.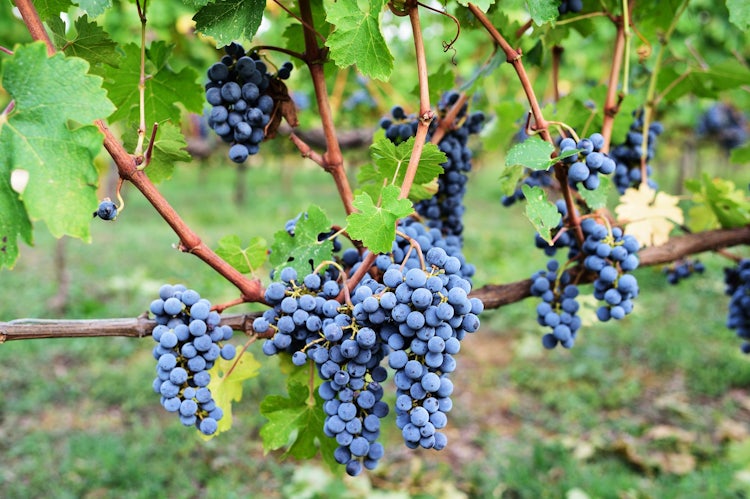 Chianti Superiore is an Italian DOCG wine produced in the provinces of Arezzo, Florence, Pisa, Pistoia, Prato and Siena designed to honor the many micro-climates that exist in the region. The Chianti Superiore is a specification for wines produced with a stricter rule of production than other Chianti wines and has been authorized since 1996. It can only be produced with grapes cultivated in the Chianti wine areas except with the variation that those vineyards registered in Chianti sub-zones other than Classico can produce Chianti Superiore wines but must omit the sub-zone name on the label.
What's Inside a Chianti Wine?
The grape of excellence is Sangiovese, and for a Chianti to be bear the word Chianti on the label, not only must it be produced in the Chianti region but it must also contain at least 80% Sangiovese grapes. The remaining amount can be a mix of other local grapes or an international grape (however only if it is grown in Chianti) Cabernet, Merlot or Syrah used to soften the final product.
If you are planning a trip to Tuscany, don't miss the opportunity to organize a wine tasting tour in Chianti or wine tasting in a wine shops in Florence. Read our article about wine activities in September.