The Essence of Tuscany
Elena, the owner of this 5 bedroom B&B and 3 private vacation villa rentals, knew it was the right place when she climbed to the first floor and looked out the kitchen window.
"For me, this was the essence of Tuscany". And that was before they renovated the crumbling farmhouse and before they were cultivating vineyards in her backyard. Hearing her speak will help you understand how she could be so sure; she speaks with authority and passion and, after 30 years, she has adopted not only Borgo Argenina but, the entire Siena Chianti area as her home. In her words, this is the true Chianti, the better Chianti.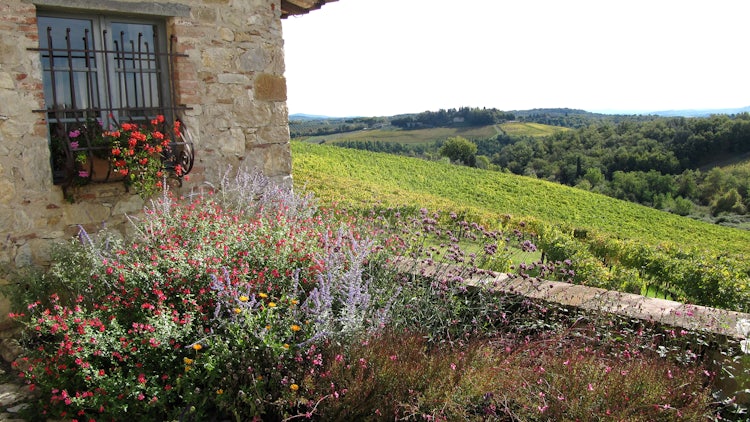 She still holds tight to memories and her origins, a mix of Naples clearly visible in her expansive personality and encompassing hospitality, and Milan, evident in her no-nonsense way of dealing with red tape and bureaucracy.
Book Direct with Borgo Argenina
Every Day is a Good Day in Tuscany
A Review of Borgo Argenina
We loved: the familiar feel, the spaces dedicated to socializing and the many, many scenic vistas
Ideal for: from couples or singles traveling together, ideal for exploring the countryside of Tuscany
As I walked up to the building which housed the 5 B&B suites with private bathrooms, I found myself admiring the authentic barn door and I could just feel it was going to be a good day.
I imagine that the guests at Borgo Argenina just outside Gaiole in Chianti must feel the same way when they head down to the breakfast room and hear the laughter and animated chatting of the guests. It's obvious that Elena prefers a generous breakfast buffet, and she is a master at setting the scene and bringing people together. I was greeted by one of her adorable pooches, whom I was tempted to lure off to my car to bring home with me. Friendly but not intrusive, the two follow Elena all around, silently hoping that there are snacks to be had somewhere nearby.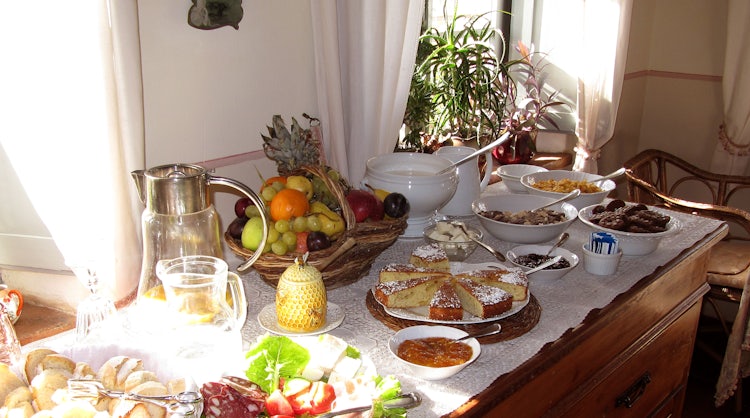 Since I was there at breakfast, I took advantage of Elena's short absence while she helped a guest plan a walkabout on this perfect autumn morning and raided a slice of fresh made "torta" with almonds slivers on top and a strong cup of espresso... then, yes, I admit it I went back for a bowl full of the homemade yogurt! The breakfast room, like the rooms I was to visit upstairs, was luminous, spacious and evocative with the antique plates hanging on the walls and the old fashioned wood-burning stove.
Just Like Our Memories
As she showed me the only B&B room still available that day, I let out an involuntary exclamation: the afghan on the bed reminded me of those that my grandmother used to make. "Brava Donna, that's what I want my decor in the bedrooms and apartments to do... bring forth all of your best memories." That's when she isn't busy helping you create new memories.
Active in the comings and goings of her guests, she waves goodbye to another couple and finally sat down, her first opportunity this morning to take a sip of her now lukewarm coffee.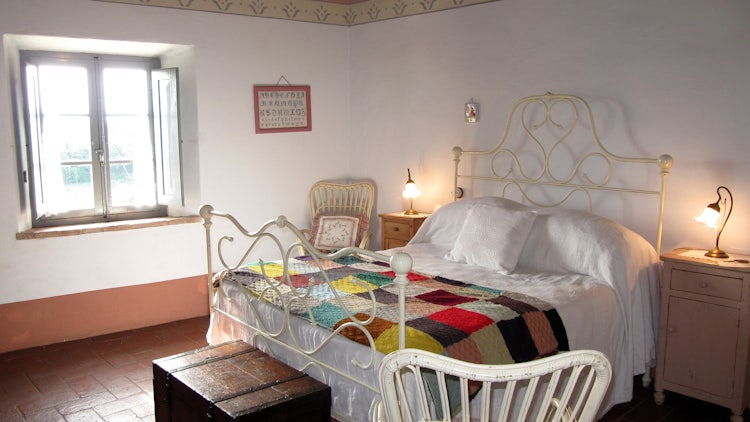 As we marched up the classic stone steps to the upstairs to what is now a mix of B&B rooms and self-catering vacation apartments. I asked: "how did you ever decide to plant roots here in Chianti?" She answers quite modestly: "I just knew. I walked into what was the "cucina", the kitchen, and I just felt it. This was my home."
I catch a glimpse of her hard, serious side, the one that got the well dug, the yard cleared out, the building permits and artisans to take her seriously. "It wasn't easy 30 years ago, for a woman on her own, with a young daughter. There was a lot of work to be done, even my mother couldn't believe me."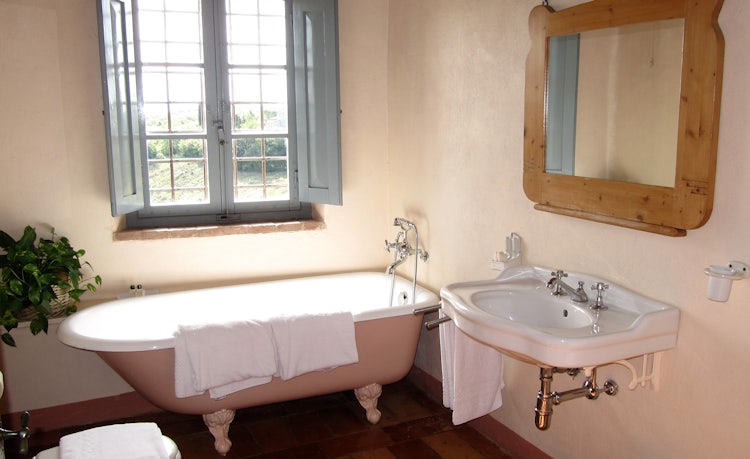 A Pioneer in Chianti
If I had to describe her in one word, it would be "pioneer". Although it's not the only word that fits, it is definitely one of the top 5. She was a pioneer envisioning a farmhouse as a holiday accommodation for tourists, she was a pioneer in the decor (at least 20 years before Martha Stewart) and she was a pioneer in offering hospitality in Chianti.
She was also a pioneer in creative but authentic solutions to restructuring in a time when no one was interested in the "authentic".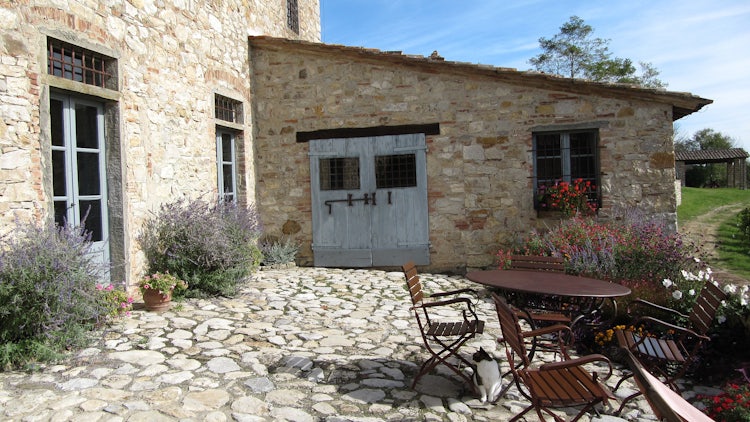 Even now as she looks around her small empire, she tells me "nothing is authentic anymore... if I were to start over right now, I would go back even more to the original Tuscany," though I am not sure how much more genuine she can get. The wrought-iron bed stands, the classic tubs and terracotta floors: it all feels pretty close to what we imagine Tuscany to be like.
Even the kitchen where she holds her cooking lessons evokes images of rowdy Tuscan families settling down in front of a roaring fire after a long day working the fields.
Cooking classes in the "real Chianti" near Siena
Borgo Argenina at a Glance:
Type: B&B and Vacation villa rentals
Location: Gaiole in Chianti, 13 km (15 min)
Distance: Siena (35 min) & Cortona (70 min)
Transport: a car is necessary
Rooms: 5
Villas: 3 private villas for 2 - 5 persons
Sleeps: 22
Type of board: Breakfast - Cooking class on request
As she starts to tell me about the long and sometimes tedious restoration of the villa, she would occasionally slip in a reference to Chianti in the Siena area. It is obvious that she feels the difference between that which traditionally made up the Florentine part of Chianti and that of Siena... and, if you let her, she will give you all the reasons why Siena is prettier.
However, for the most part, all you need to do is sit out on the cozy panoramic terrace or in the colorful garden area between the self-catering apartments and you can probably see for yourself just how beautiful this area is, even without the help of a glass of wine and a plate of bruschetta by your side.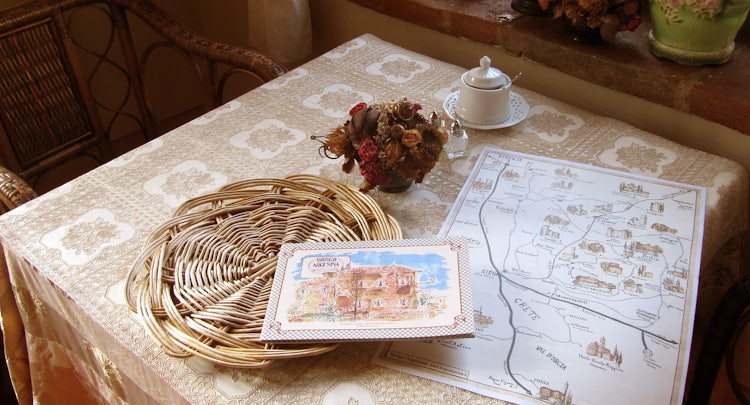 On arrival, each guest receives a map where she highlights some of her favorite places to visit in the area, many of which are within walking distance and will make the perfect path for taking one-of-a kind photos. The second special gift is a small little book with her "Mamma" recipes. Her eyes tear up a bit when I asked if they were her mother's favorite recipes:
"These are the recipes from all of the many mothers I have known throughout my life... each with something special to share."
Her mother may not have exactly understood what her daughter was trying to do all those years ago, but it is obvious that Elena shared a strong tie to her mother and to family traditions. These traditions extend to Cooking Classes with your Elena, in her fabulous Tuscan kitchen. If you choose to participate (most everyone does!), you will learn to make pasta, sauces, main courses and desserts while sharing a glass (or two) of local wine and then dine together with the other class participants. Elena creates special moments and memorable dishes that will certainly have you enjoying the flavors of Italian cuisine. Read more about the cooking class here.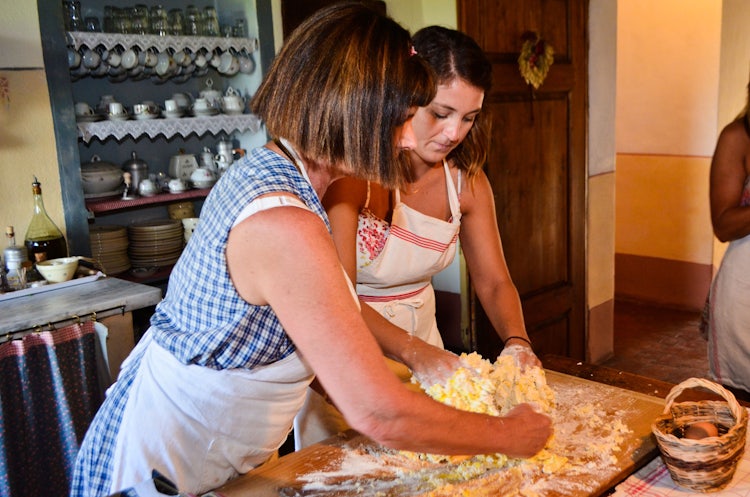 Highlights of my Visit:
Highlight: Admiring the colorful blooms in her garden, there were an endless array of colors
Surprise: The silence. No need to say anything else
Favorite: The family kitchen where Elena holds her cooking classes, just so perfectly Tuscan
The colors of the countryside
Without a doubt, the colorful blooms that abound around the property are whimsical and lend a sense of romance to the borgo. She proudly showed off the delilah this year, which came in full and in several rich colors. I can easily see myself sipping a cup of tea amidst the kaleidoscope of colors, butterflies and the gentle hum of the bees as they work their way around the blooms.
A trip into Elena's special little world at Borgo Argenina will delight you with the colors, flavors and views of Tuscany, likely as you will never see them again. They are bright and vivacious, they are memorable and endearing. They are most definitely those of Tuscany and, in particular, of the Chianti area closest to Siena.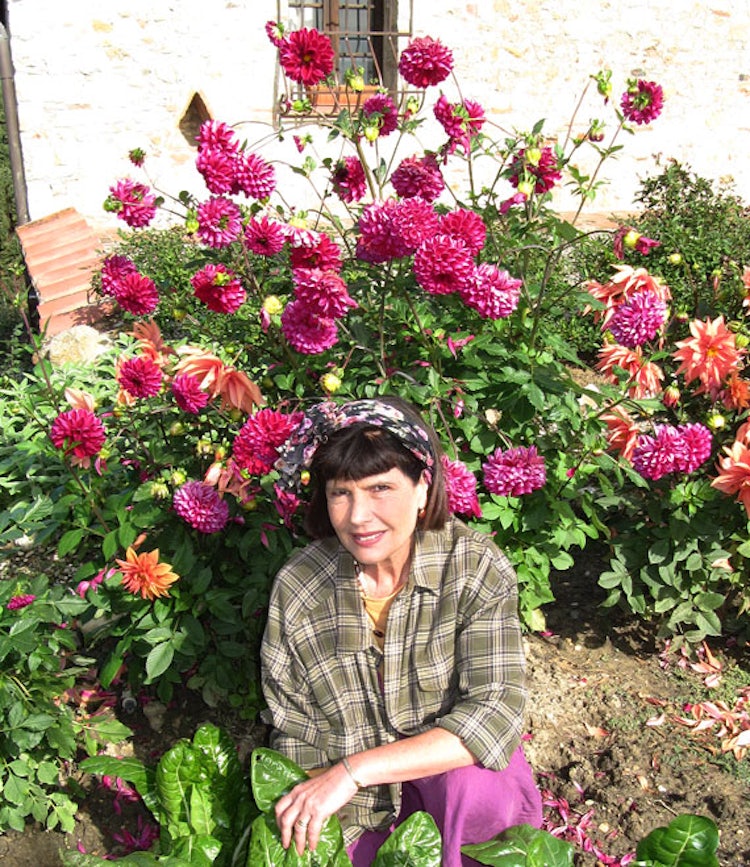 This is a Sponsored Article but reflects the honest opinion and experience of the author. More details »