If you dream of staying in the rolling vineyard-covered hills of Chianti, enjoying a relaxing holiday with outdoor evening meals in a lovely garden and days exploring the area, then I have a recommendation suggestion for you: Candida's Chianti House.
Candida's B&B, just outside San Casciano Val di Pesa and about 20 minutes from Florence, is a lovely stone 17th century farmhouse sitting squarely on a lovely patch of hill surrounded by vineyards that produce Chianti Classico overlooking the Pesa river valley. The Firenze-Siena roadway is less than 10 minutes away, making it an ideal base from which to explore the central part of Tuscany, from Florence to Siena.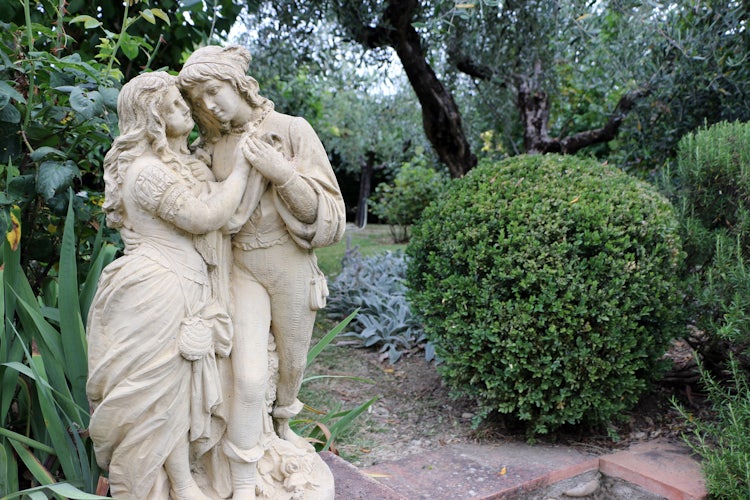 We love heading out of Florence to explore Chianti, its hills, medieval towns and the estates that dot the landscape, pretending temporarily to be like you, a soon-to-be visitor to this wonderful area. As you plan your visit to Tuscany, deciding where to stay, we recommend staying at a small B&B such as Candida's Chianti House as the best way to make a personal connection with locals.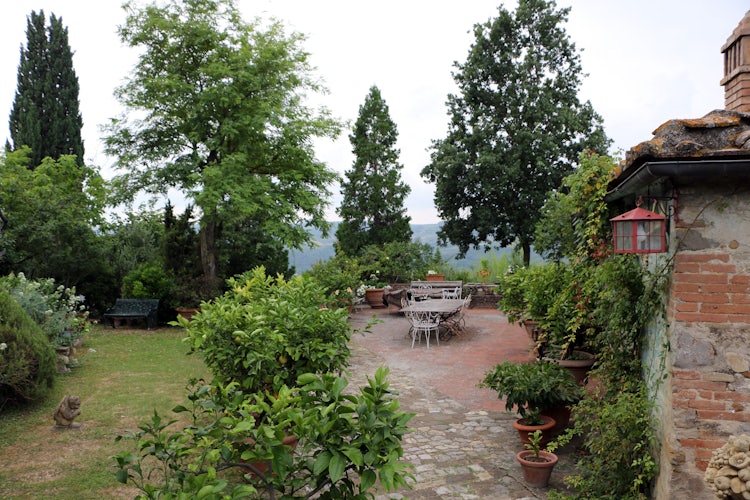 A Review of Candida's Chianti House
We loved: the tastefully decorated rooms and bathrooms, the main living area, the large gardens and, most of all, the warm hospitality you are met with when you arrive.
Ideal for: a romantic vacation for couples of all ages, a very relaxing holiday in the heart of Chianti wine country while staying centrally for day trips, anyone staying in relaxing with cooking lessons and home-cooked meals at home.
We met with Candida recently to get to know her better on her home territory and to see what she is keeping herself busy with. We had no difficulty reaching the home where Candida has lived for over 30 years, growing her family and four children in its walls. The house and garden reflects her passions, principally as an importer of garden furniture and art from France, England and Belgium. Her garden displays all the pieces of the "collection" in their natural setting along the paths and among the flowers she lovingly tends to throughout the year. Her garden is her "natural" showroom: if you see something you like, ask what the price is!
Inside the house you will find a lifetime in her mementos, including gifts from past guests as well as hats and milliner forms, remnants of the family business based in Florence. Her first job was joining her father, Francesco Bing, in the creation of women's hats for department stores and boutique shops in Europe, America, Australia, and Japan. There are so many shapes, I had never realized the many shapes hats can take!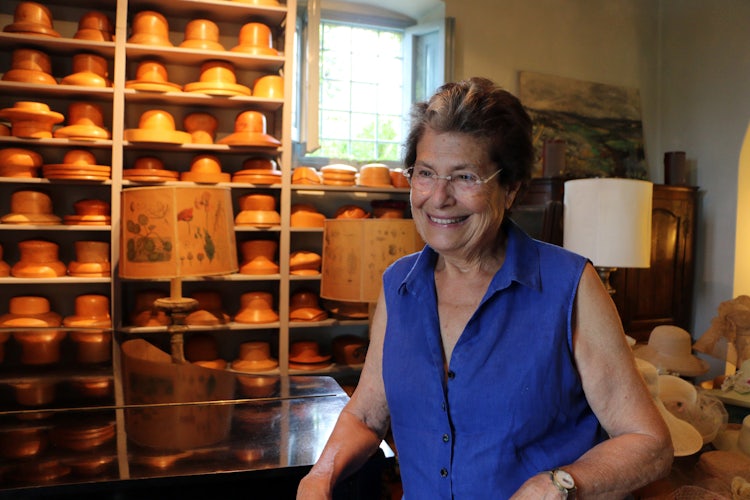 Candida's Chianti House at a Glance:
Type: Bed & Breakfast
Location: San Casciano Val di Pesa (10 minutes)
Distance: Florence or San Gimignano (40 min), Siena (50 min)
Transport: a car is definitely recommended
Rooms: 3
Sleeps: 6
Type of board: Breakfast, dinner and cooking classes upon request
The bed and breakfast is thus just her latest enterprise, born about 6 years ago after her grown children had flown the nest. With lots of energy and vigor, she saw the empty rooms around her as an opportunity. She could open up her doors and share her corner of the world; being greeted with her smile and calm demeanor, we immediately felt at home.
The 3 double rooms, named Neri, Martina and Mattia after the members of her family, have their own bathroom and distinct personalities, each reflecting Candida's impeccable taste. Unique artwork, stone arches, ceramic tiles, wood beam ceilings and terracotta floors are part of the authentic Tuscan decor that invite you to settle in.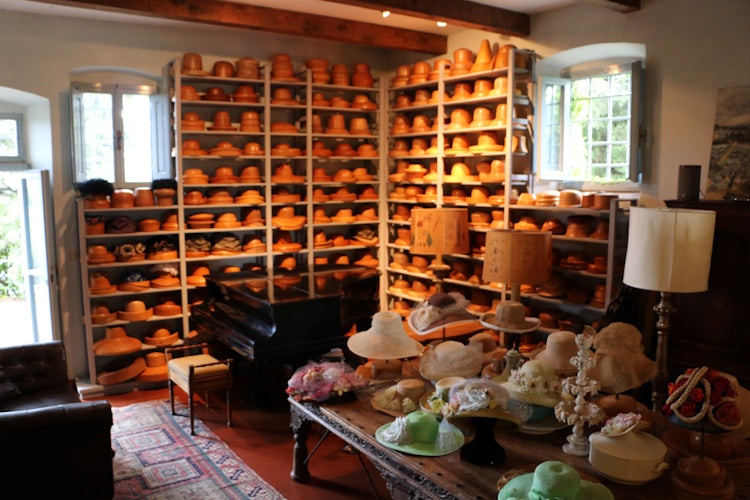 Beyond the basic details of the environment, it is Candida herself that will enhance your stay here. She openly shares her kitchen wisdom by offering cooking classes in her spacious kitchen, using the vegetables, fruits and herbs grown in her own garden and olive oil pressed from her trees. If you want to just eat a delicious homemade meal, ask and she will prepare a lovely Italian meal for dinner. Enjoy her jams and homemade cakes for breakfast and other treats.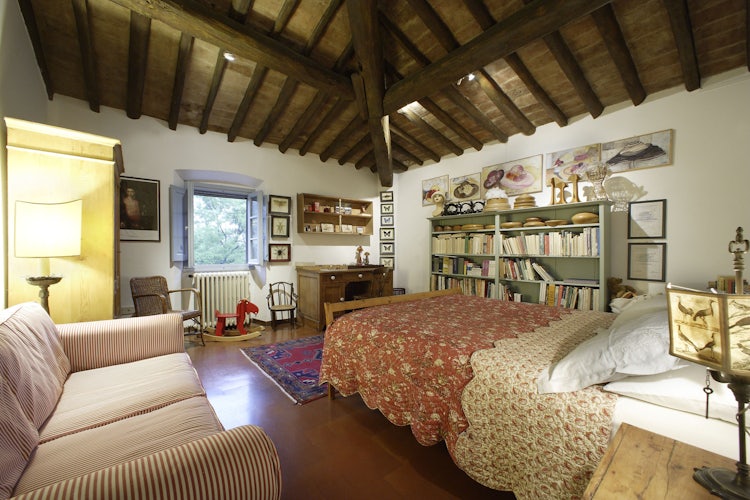 The farmhouse is located just 3km outside of San Casciano, which makes it walking distance if you don't feel like driving. Candida recommends having your own car to get around the area, mostly so that you can set your own pace. You can easily roam around Chianti, take day trips to Florence and Siena and enjoy wine tasting all around the area. Ask Candida and she can make suggestions of where to go every single day you stay with her.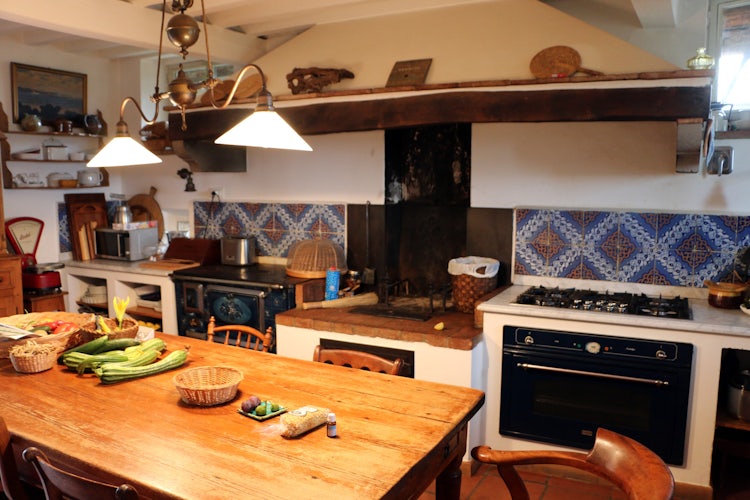 As we chat under the covered patio, we realize how comfortable and inviting the garden is. She has created spaces across the garden that invite you to sit down and relax, with a book or glass of wine in hand.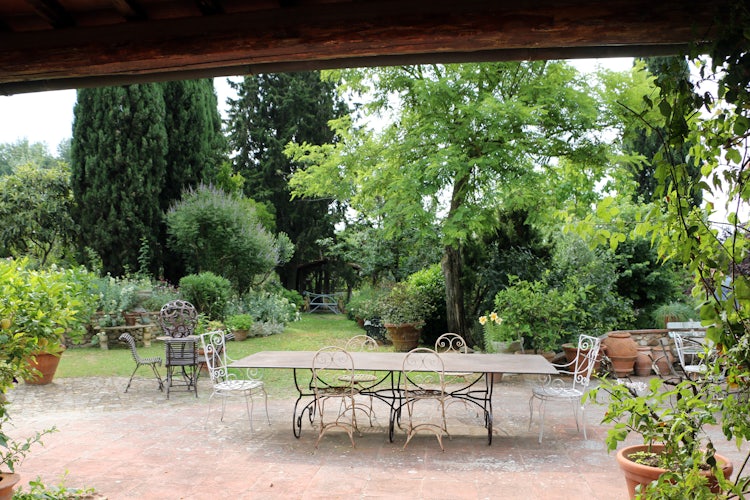 The news Candida alluded to before our arrival is that she has transformed her old workshop and storage area into an intimate 2 bedroom apartment with a kitchenette in between the two rooms, calling it Candida's Garden Guest House. It can be rented as a whole or divided into a smaller apartment with one bedroom and the kitchenette or just the one bedroom. With its own entrance from the road, guests who want to stay at her home yet have more intimacy and independence can decide to stay in the guest house. The apartment is ready and available for stays, take a look at the link above for more details.
I can definitely see myself and others enjoying both Candida's company and home, particularly her garden and all of the inviting sitting areas she has set up around. Contact Candida directly to book your stay!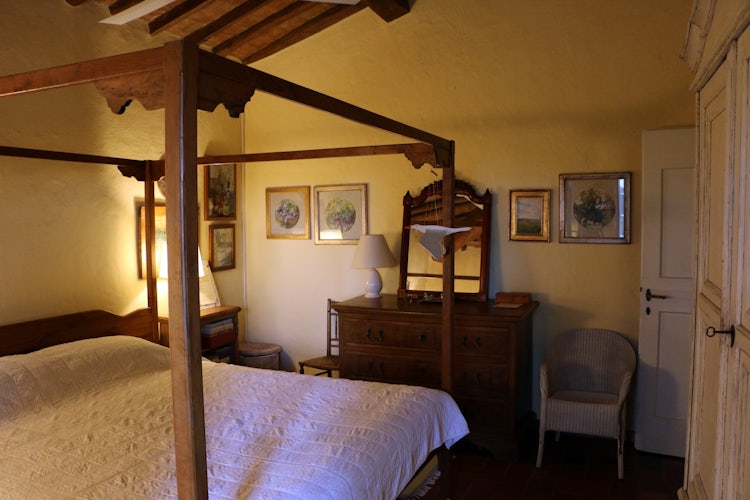 This is a Sponsored Article but reflects the honest opinion and experience of the author. More details »