Genuine Tuscany Inspires
your personal creativity
Perched on a hillside looking both towards Chianti and the Florentine hills, B&B Ancora del Chianti promises to be a special little haven that excels in perfect panoramic views, incorporating the classical colors and perfumes of the Tuscan landscape. Simply said, the award-winning eco-friendly accommodations that Laura and Filippo, the owners, have created will be a relaxing base during your holidays, and as the guest comments will show, even a catalyst for your creative juices.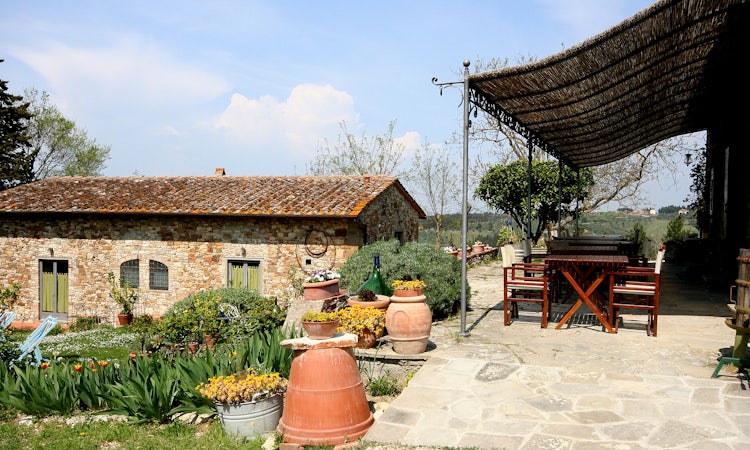 Reserve Now at B&B Ancora del Chianti
The 8 country styled bed and breakfast rooms with en suite bathrooms, also feature several shared spaces including a reading room, a kitchen area, large grassy corners, and the breakfast pergola. Then there is the newest addition of the "creative atelier'; a fully restored Tuscan barn where even an untrained eye will appreciate the large glass windows, wooden floors and natural light. B&B Ancora del Chianti offers the perfect place from spring to fall to explore the small towns, vineyards and culture of Tuscany while offering an atmosphere conducive to nurturing your soul and experiment with your creative side.
The Barefoot Experience
The classical stone farmhouse has been restored to accommodate the family home preserving its typical Tuscan architecture: wood beamed ceilings, a floor plan set various levels and worn gray stone accents. The couple, Laura and Filippo, worked to incorporate several innovations that highlight and protect the natural setting not just within the buildings but also the nearby gardens. The result outdoors? A green carpet filled with daisies and wildflowers that invite you to leave your shoes by the door and sink your toes into the Earth: soft and fragrant, it has an immediate soothing effect. This is what Laura calls her "Barefoot Experience."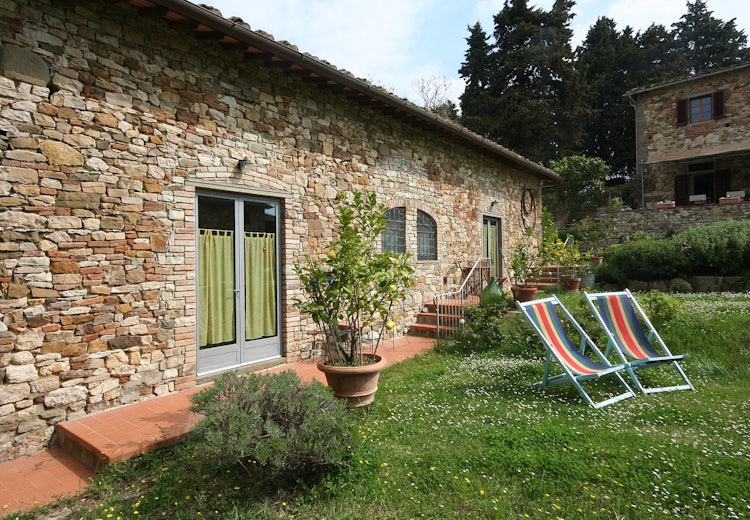 The accommodations are divided into three double and triple bedroom suites with a private patio located in the main house, where you will also find a breakfast room and a covered terrace with table and chairs. The "pergola" is framed with colorful seasonal blooms and in the morning, the enticing aroma of the homemade pastries of Alessandra and Daniela, your morning chefs and staff. Overlooking the central garden and gathering the warm Tuscan sunshine almost all day long, this common area invites guests to mix, mingle and share. Laura and Filippo have noticed that guests may arrive separately, but their time together at breakfast creates new bonds and friendships.
Next door are two barns which have been transformed: one into 5 double and triple b&b suites with en suite bathroom and the other into a special workspace dedicated to creative activities, including yoga, meditation, painting — you name it!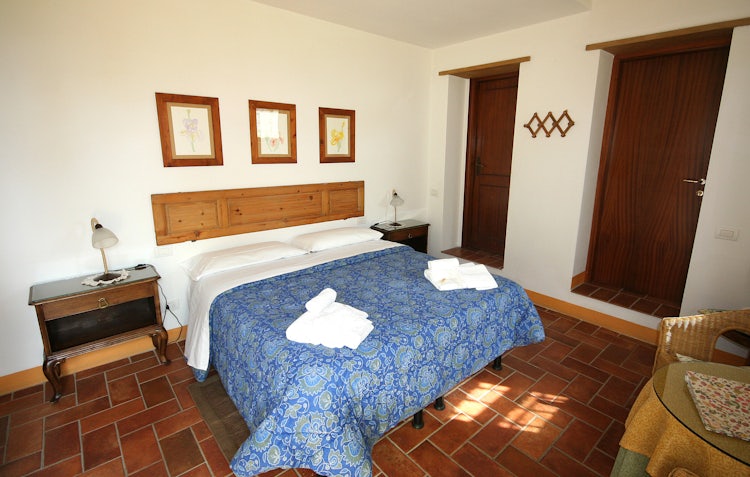 Our Vision: A Green Leader
The choice to create a sustainable holiday accommodation was a reflection of their life vision. This is not a trend or because the market is requesting "green"; Laura and Filippo believed in taking care of the land long before it became a fashion statement. It is their life choice learning how to reduce their impact on the Earth. Their soft innovations include reducing waste, for example plastics, and energy reduction. They have been recognized as leaders in the sector by worldwide institutions and local authorities.
Our main commitment is to minimize our impact in harmony with nature and modern life while learning to treat our environment with respect. For this reason we are constantly in search of the best practises and innovations. We love that our guests care about their surroundings and that they embrace our philosophy while staying at our B&B.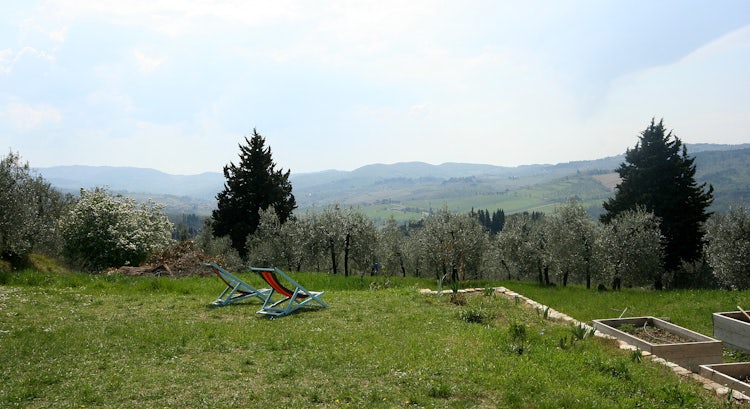 A Review of B&B Ancora del Chianti
We loved: the fresh, crisp scents, both natural (wildflowers, fruit trees & fresh air) and man-made (like that of the delicious home cooked breakfast pastries)
Ideal for: singles, couples, and groups. Especially those looking for some "down time" to dedicate to themselves
Regenerate: Life-Changing Moments
Their passion for the environment has created a refuge in B&B Ancora del Chianti. And though they may say their efforts won't change the world, just a few little changes have created effects that reach all the way to England! Their decision to grow organic (using natural and chemical free agents on the olive trees and in their vineyards) has created a microclimate on their hilltop that has brought a well-known university from the UK to study the number of wildflowers that spontaneously grow here. But not only, Laura showed me how one of her guests from Sweden and avid birdwatcher, counted over 37 varieties that flock to this little oasis, drawn by the rich wildlife.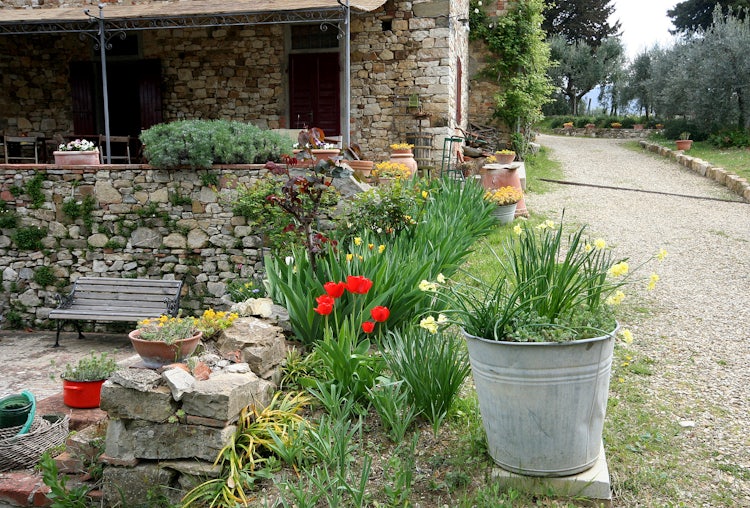 This environment creates a special area that seems to encourage guests to get in touch with themselves and nature — sometimes with surprising results. I've had people write me that they took the plunge and got engaged, started their own businesses or changed their lifestyle after staying with us.
This could be the perfect opportunity to discover your personal creative expression. Laura, an established artist, can arrange for private lessons in watercolors or acrylics providing not just a teacher — but also the landscape, sunsets and wide range of flora as inspiration! Her reception room and private space are adorned with personal creations as well as those that her guests have left behind, each piece representing the beauty and peace they found while on vacation at B&B Ancora del Chianti.
Though the open air may be particularly engaging for an "artistic expression", their atelier and creative workshop space is ideal for small groups studying yoga, meditation, or as the stage for creative workshops and experiences. The stone walls with brick arches, the wood floor, and the cozy rooms open up to a grassy hill overlooking the Chianti valley area.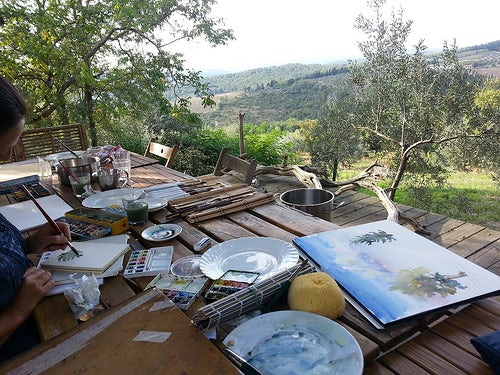 Creativity starts with Comfort
B&B Ancora del Chianti in a Glance:
Type: B&B for singles, couples & groups
Location: Greve in Chianti, 5 km
Distance: Florence (45 min) or San Gimignano (55 minutes)
Transport: a car is strongly suggested, however, there is bus service within 2 km of the accommodations
Rooms: 8 rooms
Sleeps: 17
Type of board: Breakfast. Upon request, groups can be catered. There is a small kitchen for light meals made by the guests
B&B Ancora del Chianti accommodations were designed for flexibility and well-being. The rooms are spacious and adaptable for couples, friends traveling together or even single guests exploring Tuscany on their own. You will notice right away the small personal accents, soft Tuscan colors and simple yet graceful decor all combine to create an atmosphere of "relax". This sensation extends to all the common areas, not just the breakfast room and panoramic terraces but also the guest kitchen and reading room. The well-equipped kitchen area invites guests to experiment with the foods of Tuscany and the wines of Chianti.
These accommodations have regularly attracted teachers, who organize workshops and lessons in the many shared areas. With years of experience, Laura and Filippo have tailor-made special packages which include catering with homemade Tuscan styled meals, use of the creative atelier and upon request, they can arrange for local professionals to share their skills in art, crafts and in the kitchen.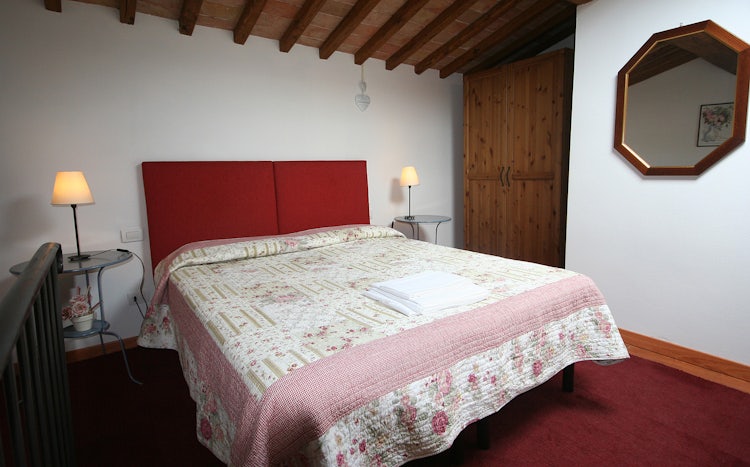 Vacation from Everyday Life
Away from the bustle of the big cities, the technological revolution and impulse that everything needed to be done yesterday, B&B Ancora del Chianti promises a vacation from everyday life. The choice to have a TV-free environment and WiFi only in common areas is their way of providing an escape from the onslaught of sounds and distractions. Laura will tell you their little haven provides its own distractions - like the chatter of the crickets after sunset, or the "Firefly Disco" in the summer when the moon is on the rise.
One of Laura's special delights is to venture into the olive grove in the early evening, take off her sandals and purposely step into the grass inhaling the aromatic bouquet herbs, in particular, the "nepitella" and its minty-tang. Perhaps the most appreciated extra is the "Early Morning Tray" in each room, where a guest can make their own coffee or tea and then go watch the sun illuminate a path over the olive grove and vineyard in the morning.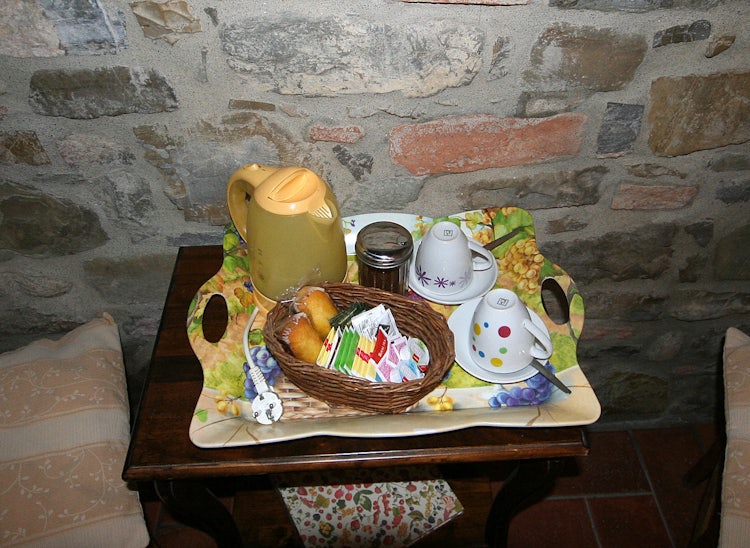 But you are in Tuscany, right?
Believe me, with these fantastic views, it is hard to forget that you are on vacation in one of the most beautiful regions of Italy. Conveniently located in the heart of a land known for its wine, B&B Ancora del Chianti provides easy access to some of the most treasured cities and landscapes - many of which have been recognized by UNESCO. Siena, Florence, and San Gimignano are all approximately an equal distance from the bed and breakfast, and they are accessible on major roads that are easy to navigate. If you are a wine and food aficionado, you will find a wide range of new recipes to savor. Visit the local market in Greve in Chianti for fresh fruits, and vegetables, dine at one of the delicious restaurants or set up a tasting at one of the many local vineyards.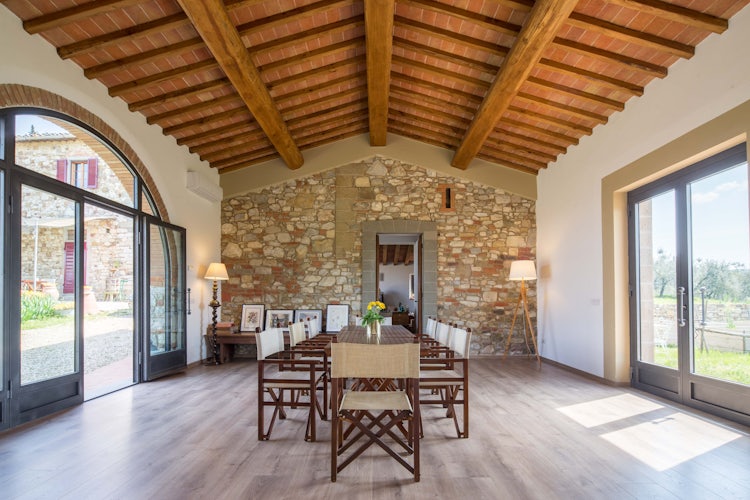 Book Direct with B&B Ancora del Chianti
It might seem that Ancora del Chianti isn't your typical vacation accommodation, and you would be right. They are special. But this isn't the motive why making this bed and breakfast your base in Tuscany will transform your holiday experience. The real reason starts with the warmth and generous personality of your hosts, and their concern for you and the environment which creates a comfy and safe haven. Then you can take into consideration the comfortable accommodations: clean, simple and gracious. Finally, you will have to concede that the natural beauty, accompanied by the true, authentic flavors, fragrances, and colors of Tuscany will touch you, creating lasting memories that will change your life in some small way.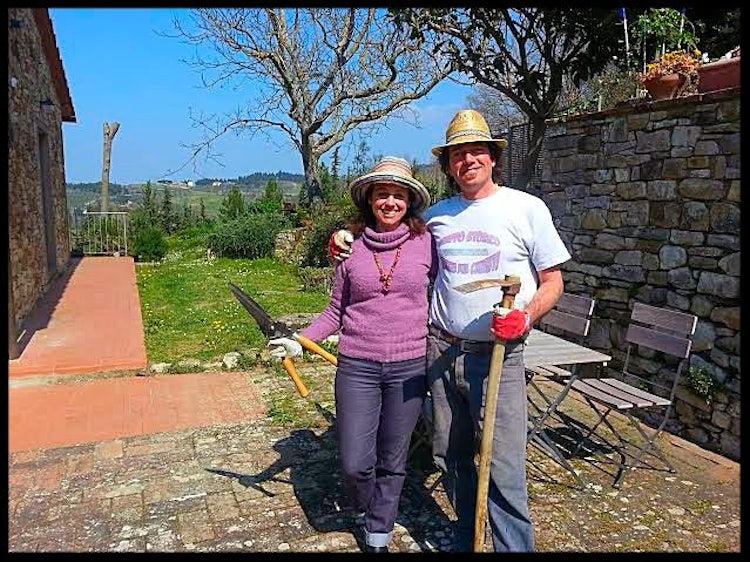 This is a Sponsored Article but reflects the honest opinion and experience of the author. More details »