Vacation Villa in Chianti for up to 10 Persons
There is no way to go wrong when you choose Agriturismo Vicolabate as your vacation base in the heart and soul of Tuscany: Chianti Classico. Antonella and Giuseppe, the owners of this family run agriturismo situated between Florence and Greve, have designed the perfect haven where adults can let their troubles melt away in the sunset.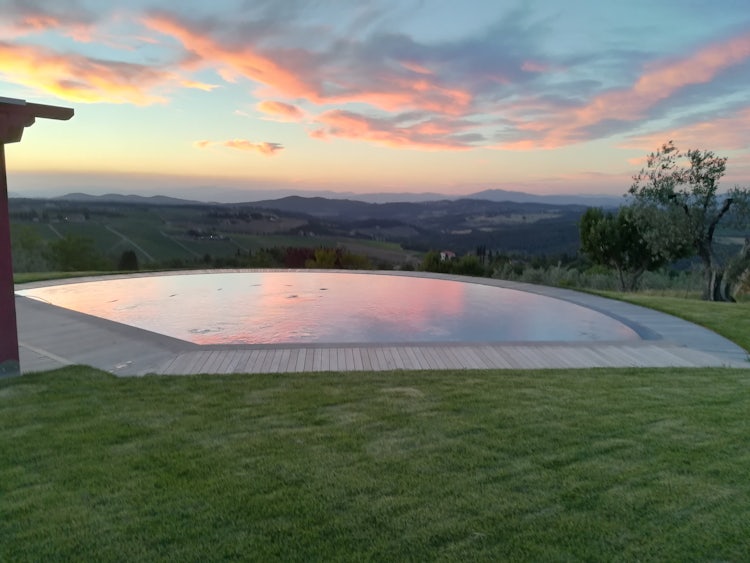 Book Direct with Agriturismo Vicolabate
There are many reasons why I would choose to stay at Agriturismo Vicolabate, citing first the friendly environment created by your hosts. The next point I would highlight is how I was drawn to the location, perfect for a vacation "up close and personal" with the natural beauty of Chianti and Tuscany. And besides falling in love with Chianti, and the iconic landscapes of Tuscany, it is wonderful to be centrally located so it easy to venture further and discover the other cities and areas.
It would be impossible not to mention the organization of the accommodations, which lends itself to being versatile and convenient for groups of varying dimensions. And, without a doubt, the decor is intriguing, using antique and natural lighting to create an enchanting effect, rendering the rooms warm and inviting.
Full Contact with Nature
I took the long road - less than 30 minutes from Florence - to the hilltop agriturismo and the last stretch, I met the local deer, a jack rabbit, the first blossoms of spring, the olive grove and several spots for 360° panoramic photos. Even on a blustery April afternoon, with the clouds billowing by, the serenity and solitude of the Agriturismo Vicolabate private hilltop haven was captivating.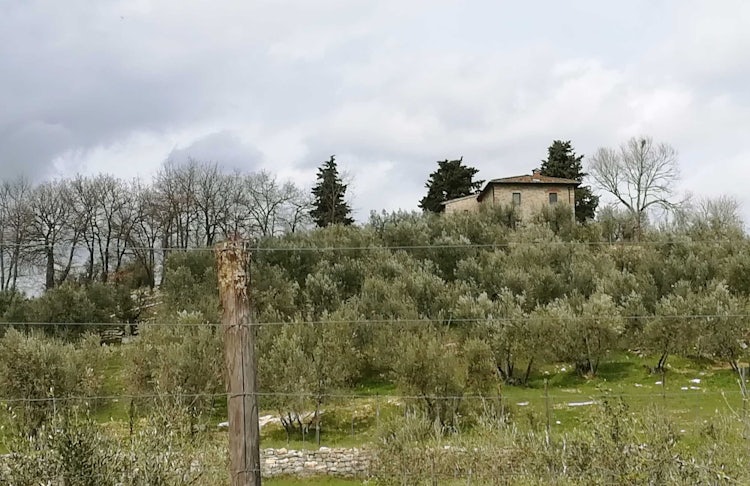 Giuseppe was a bit surprised that I can in the back way, following a characteristic "white road" of Tuscany, he was unaware of my adventurous nature. I caught him at a very busy moment, immersed in the important spring job of pruning his olive grove for the new production. Instead Antonella, with her spirited four legged companion, met me on one of the grassy picnic areas with a warm welcome and they both made me feel right at home.
What a spectacular place to start my visit, surrounded by the awesome scenery of Tuscany and listening to her point out all of the iconic locations which were visible on the skyline from this prominent hillside.
A Review of Agriturismo Vicolabate
We loved: the decor, a fantastic mix of Tuscan antiques repurposed for everyday use.
Ideal for: adults searching for tranquility and relaxation in the Tuscany countryside
It was immediately evident that this is a nature lover's dream come true. Between the open spaces, the criss-cross of trails and paths, and the ever present breeze, it was easy to imagine endless evenings sitting out on one of the terraces listening to the crickets, watching the fireflies and searching the heavens.
In fact, to the south she pointed out the Chianti Observatory, where you can do some serious stargazing - however, isolated on this summit with no polluting city lights,Vicolabate will offer the same possibility of sighting shooting stars and orbiting planets.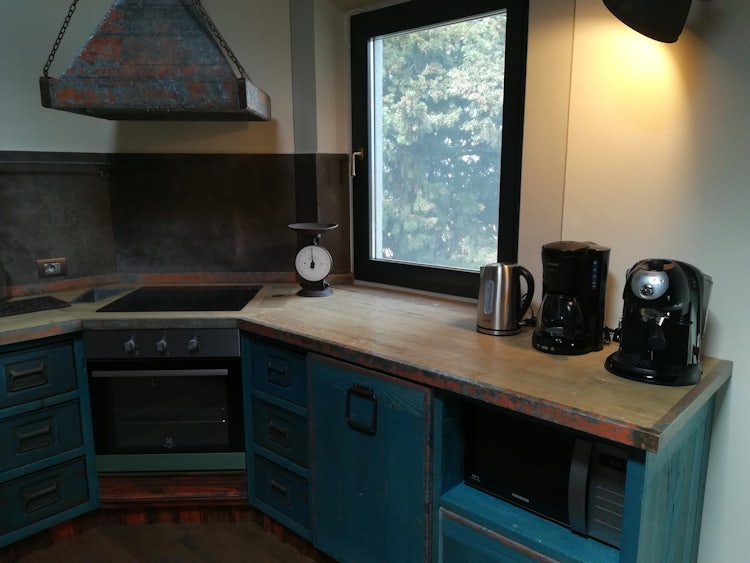 Fits Your Style
The accommodations are divided into two private and independent self catering apartments. The private front entrance, with its small stairwell, joins the dedicated living room area. Named for the blue colored kitchen, the apartment Azzurro (blue), includes of a large area with a combined full kitchen and a dining area, distinguished by the natural lighting from the skylight. From the main room, you have access to two large bedrooms, one with a double bed and one with two singles. The apartment has one bathroom with a large shower.
The apartment Verde opens to a spacious area, featuring a fabulous fireplace, made of sandstone, incorporating the supporting arch of the room. To the right of the ground floor entrance sits a large wooden table for family meals and closer to the fireplace their lies a sofa bed for an extra two persons, making this for 4 persons plus 2. On the same floor you will find a separate kitchen and next to that, a full bathroom with shower. Upstairs there are two double bedrooms and a second bathroom comprised of a tub, sink, bidet and WC.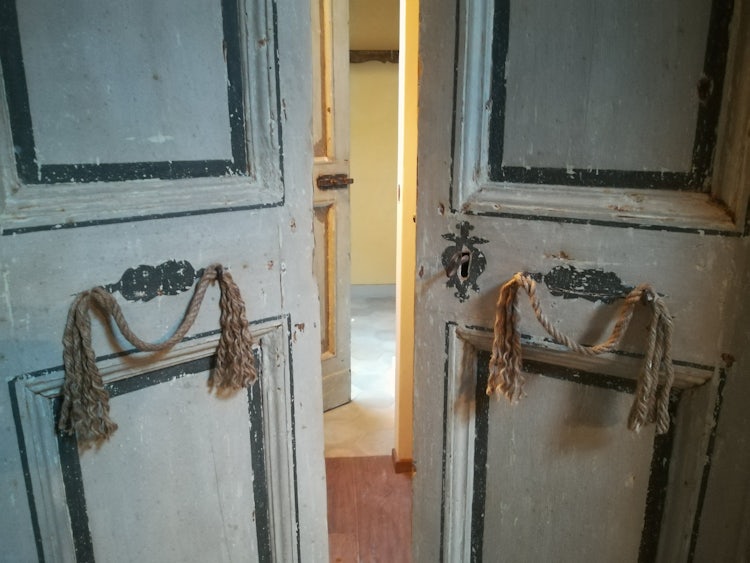 In the case of renting both apartments together as a vacation villa, one of the double bedroom has a communicating door. This solution is particularly enticing since it creates a full house setting, where everyone can participate in events. However, at the same it allows for Antonella and Giuseppe the possibility to accommodate groups of varying sizes.
Are you just a couple looking for tranquility or a family of 6 which likes your space? Just let them know.
A Passion for the Peculiar
Antonella and Giuseppe used the natural beauty of the Tuscan farmhouse and its creative floor plan as a stage for a collection of intriguing antiques, many of which have been repurposed into everyday fixtures. Just a few that caught my eye: the window frame which has become the dresser mirror, the hutch which was once a antique coffee dispenser and the internal parts of an organ transformed into nightstands in the bedroom. Antonella's passion for antiques is evident as soon as you cross the threshold of either one of the two self catering apartments, and is gracefully combined with many modern features.
The decor makes these accommodations particularly suited for a mature or adult guest.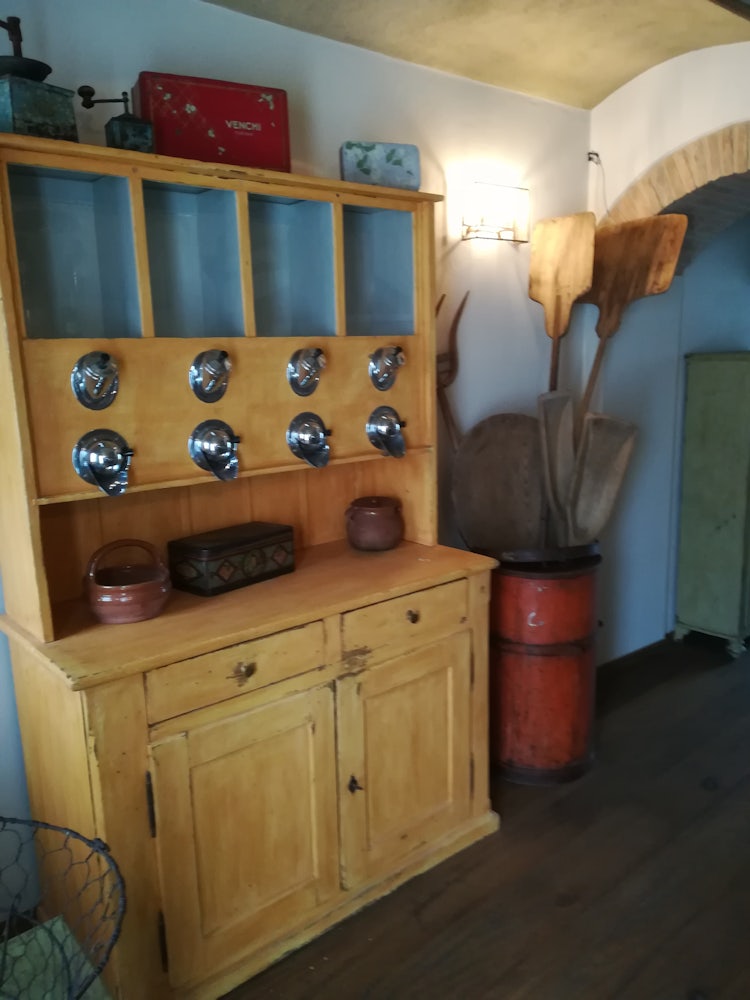 Your hosts paid particular attention to the minute details: light fixtures, wide plank wooden floors, painted doors, large dining tables, even the fireplace is amazing with the internal lighting (perfect for a summer evening inside). But they also gave special attention to everyday needs like WiFi, floor based heating, a laundry room, window screens, blackout curtains, and top quality kitchen accessories - including a microwave, stove with oven, electric tea kettle, coffee maker and fine china.
The decor, including prized, yet unusual Tuscan antiques, gives the apartments a cosy and comfortable atmosphere, with ample dining space, both indoors and outdoors, and lovely living room areas where you can relax with friends and family after a busy day of Tuscan adventure.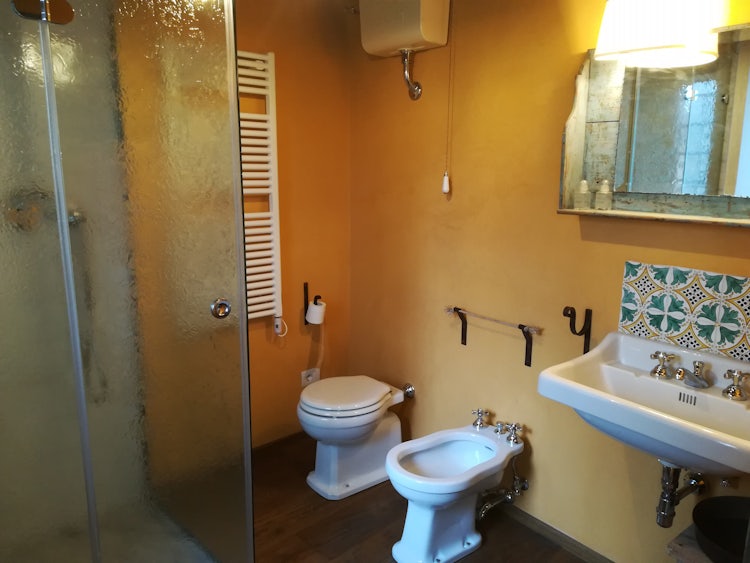 Chianti Classico at your fingertips
Picture yourself poolside with Chianti Classic vineyards spread in every direction. Now, as you scan the horizon, you will see a few medieval hamlets with their church towers piercing the skyline, a castle or two and the characteristic cypress trees dotting the hills.
This is your reality at Vicolabate, close enough to enjoy the views but far away enough to relax in the sound of nature.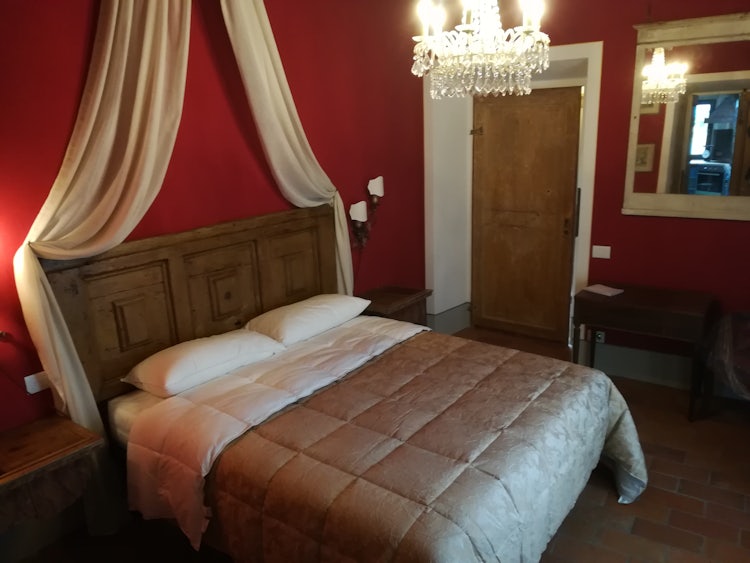 Agriturismo Vicolabate in a Glance:
Type:independent vacation villa
Location: San Casciano Val di Pesa (5 min)
Distance: Florence (25 min) & Greve in Chianti (15 min)
Transport: a car is necessary
Sleeps: 10
Type of board: self catering
Each of the windows within the accommodations promises a new and enticing view. Yet, even though you sit above all of this, it doesn't take much to get you in the heart of it all. In fact, within minutes you can be walking the market at Mercatale, eating dinner at San Casciano or taste testing the salumi in Greve in Chianti.
Centrally located, Vicolabate gives you easy access to Chianti, Florence and major roads for visiting San Gimignano, Pisa or Siena. Plan on day trips throughout Tuscany or aimlessly roaming the many panoramic roads making your own personal adventure.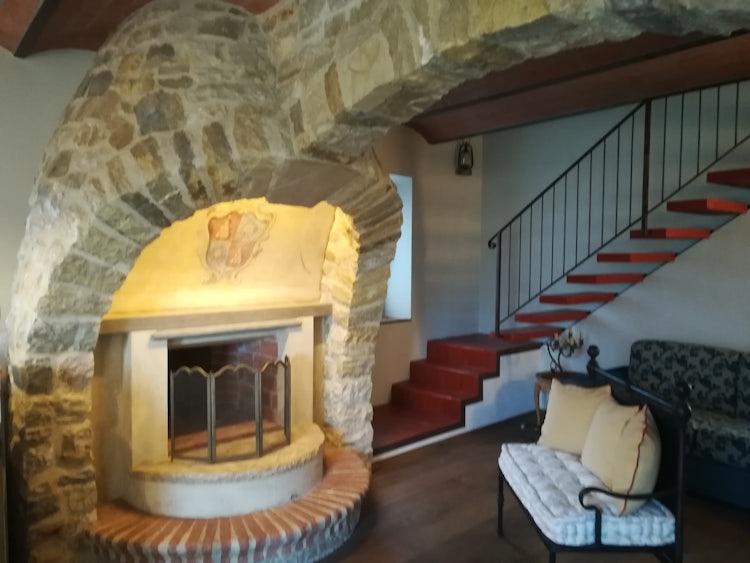 The Flavor of Tuscany
Your hosts will surround you with the flavor of Tuscany, between the views and the special decor you will be totally immersed. But there's more! They will also be taking care of your taste buds by mixing two of the most unmistakable flavors of the territory - extra virgin olive oil - their own production of course - and fresh baked bread from their wood burning oven.
I know, I want to come too!
One evening during your stay will be dedicated to savoring some of the most iconic flavors of the area - and who knows there may even be a bit of wine.
It started as a game for us, but we soon fell in love with the atmosphere. We made it a priority that there is lots of outdoor space for our guests to appreciate the serenity of this place.
The farmhouse, positioned in the middle of the family olive grove, and next door to the owners home on the top of an extremely panoramic hill top in the Chianti area, promises a very special holiday accommodation. Vicolabate combines the beauty of the region with a relaxing and tranquil setting, where your closest neighbors are the deer nibbling Antonella's geraniums (much to her dismay) and the brilliant colors of the sunset.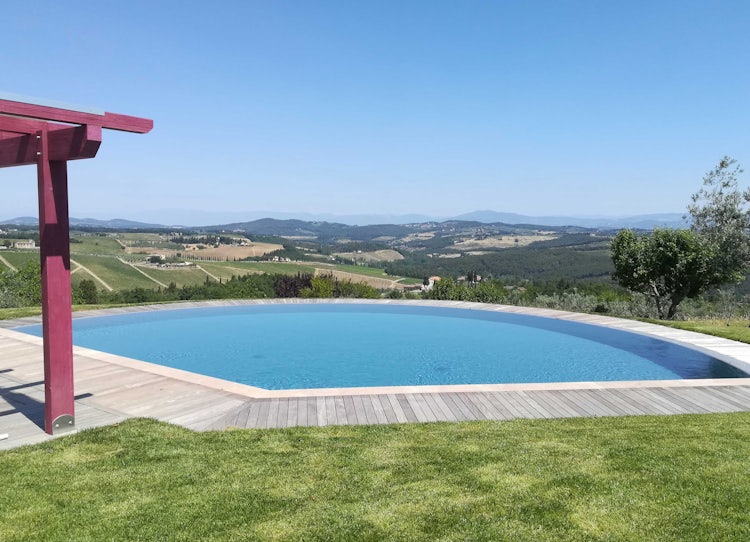 Whether you are a couple searching for a romantic holiday or a group of 10 looking to combine the natural beauty of Chianti with a Tuscan adventure of museums, monuments and wine tasting, you will find that Vicolabate provides a truly unique and lovely setting for your vacation. Complete with modern comforts in a typically Tuscan environment, Antonella and Giuseppe are ready to share with you the best of their home.
Reserve Now at Agriturismo Vicolabate