In the hidden hills of Chianti, minutes from Greve in Chianti
If you're seeking out a central place in Tuscany to recharge your body and mind, surrounded by the green and silence of nature as well as a pool by which to relax, then we've got the place for you: Agriturismo La Sala. The family-run agriturismo is intimate and cozy with just 5 vacation apartments perfect for couples or small families, ideal for staying in the Chianti countryside yet close to Florence.
Just 10km (5 miles) from Greve in Chianti, where you will find weekly markets, trattorias and pizzerias serving local Tuscan cuisine, cafés, gelato shops and, of course, wine shops, it will be the perfect base for exploring the vineyard-covered hills and hamlets spread across Chianti. If you want to stay close to Florence for day trips to the city's museums, churches and other attractions, La Sala is your ideal base. At the end of the day, head "home" to relax, surrounded by the Tuscan countryside.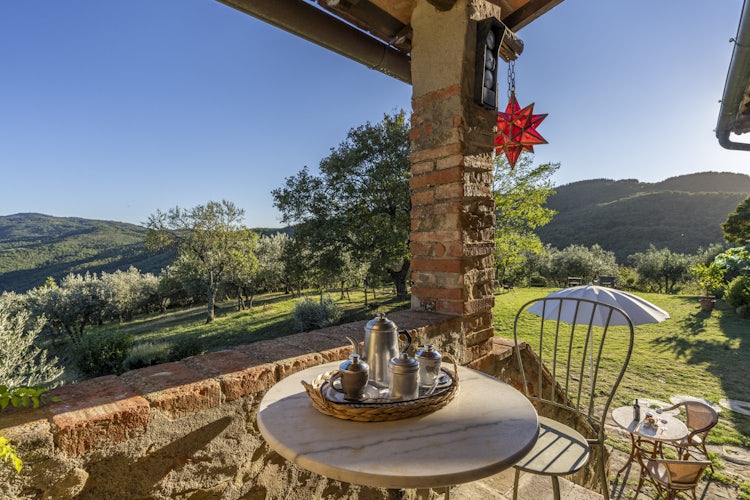 Easy to reach from Florence (30km, about an hour's drive), the country estate's small size will appeal to anyone searching for quiet and intimacy. We visited the small family-run estate and met with Anastasiya and Sandro to personally see for ourselves. We found it easy to get to, just minutes from the main road on the other side of the hill, which transformed the setting: it was very quiet, with wonderful views and the terrace invited one to sit outside and enjoy the morning sun.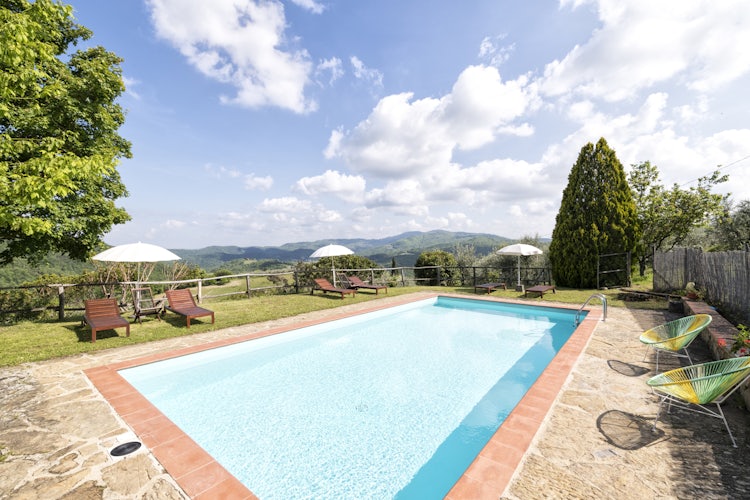 Our thoughts on La Sala
We loved: the panoramic views and spacious garden terrace with pool, hammock, picnic tables and playground.
Ideal for: couples on romantic getaways who want some quiet and great views as well as for small families with a kid or two (apartments are small) who will enjoy the outdoors and the garden and playground
With just 5 apartments, each for 2-3 guests, we think it is the perfect place for couples. We were there on a late fall morning and all of the guests were out and about exploring the area; if you choose to stay in, you would have the property to yourself. Clearly ideal for a honeymoon or romantic getaway filled with long walks in the area, enjoying the magic of sunsets from the terrace.
Surrounded by Nature
Tucked on the side of a hill surrounded by the estate's olive groves, the natural terrace overlooking the valley below and across offered an excellent panorama and silence. The road ends at this agriturismo, you can see one nearby house and that's it: the rest of your view is woods and sky!
With over 600 trees, the family produces extra virgin olive oil, and, yes, you can most definitely taste some and buy some to take back home!
It is easy to see that this place would invite guests to wander around the estate on leisurely walks. The total silence is deceiving, since the short distance from the main road that leads to Greve assures you're minutes away from anything you might need.
Stays here are usually by the week, from Saturday to Saturday but shorter stays are possible on request. If you don't have a whole week in Tuscany, but you like La Sala, I suggest you contact them in any case and ask whether they have availability for your dates.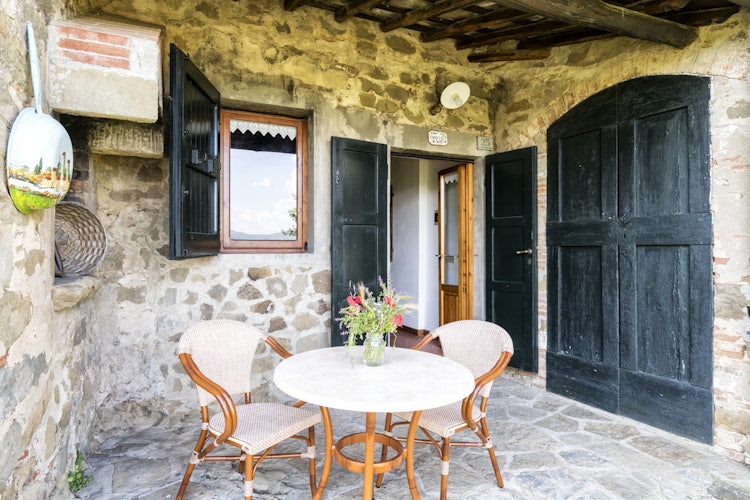 La Sala At-a-Glance:
Type: self-catering holiday apartments
Location: Greve in Chianti (15 min)
Distance: Florence (60 min) or San Gimignano (60 minutes)
Transport: a car is necessary
Apartments: 5 apartments
Sleeps: 12 (possibility to add extra baby cots)
Type of board: Accommodations only, weekly stays from Saturday to Saturday, shorter stays on request
Note: no smoking structure, no pets allowed, children under 3 stay for free, baby cot on request free, self-service laundry room, free on request
A home with history
The five apartments are ideal for 2-3 persons each, keeping the experience at the agriturismo personal and tranquil. Located across three stone buildings on the farm, whose meter-thick foundations date it back to a "tower-house" in the Middle Ages, the apartments maintain their rustic Tuscan country farm style updated with modern accessories. The apartments have their original dark wooden beamed ceilings, terracotta floors and marble counters. From a full kitchen with microwave oven to private bathroom, each of the apartments offers stupendous views over the Chianti hillside. One of the apartments has air conditioning, the others with very thick outside walls do not require it at all to stay cool in the summer.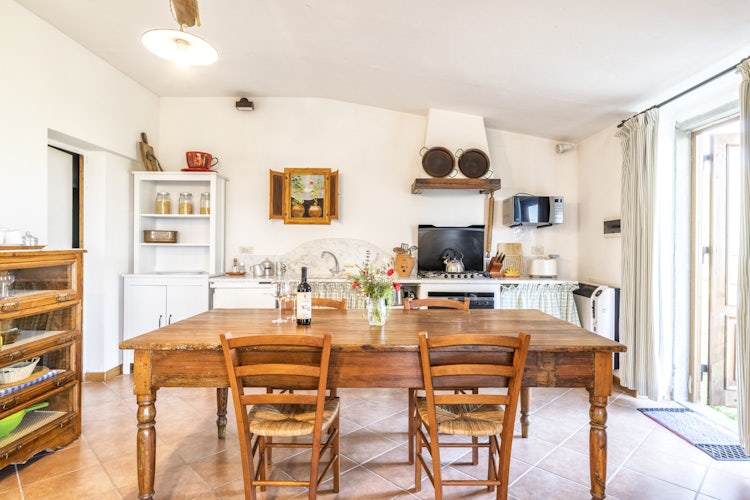 Smart TVs, SAT TV and free WiFi keep guests connected to the world, but as often is the case, you will want to keep devices turned off and enjoy the views from the terrace or by the pool, recharging your mind during your holiday in Tuscany.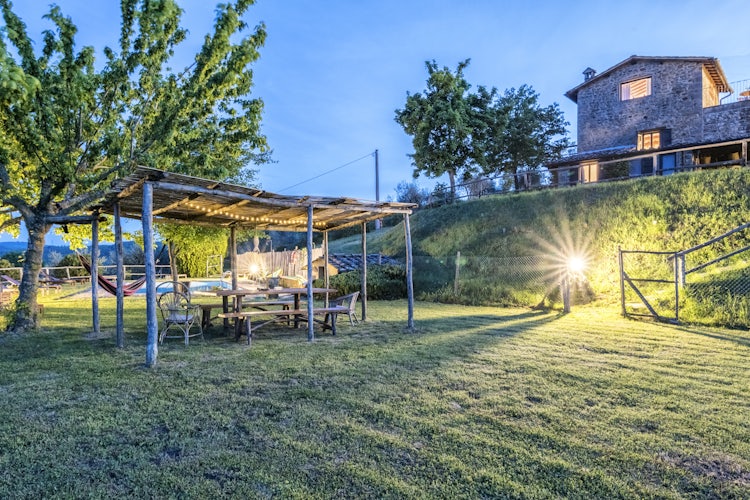 The large garden includes a playground area for kids, which along with the pool further down, makes Agriturismo La Sala also perfect for families with children. Trees around the pool provide shade - as well as a hammock - inviting you to spend time outdoors. There are many tables and chairs by each apartment and on the terrace, the perfect spot to enjoy a glass of wine and the views. The covered parking area near the apartments makes coming and going very easy.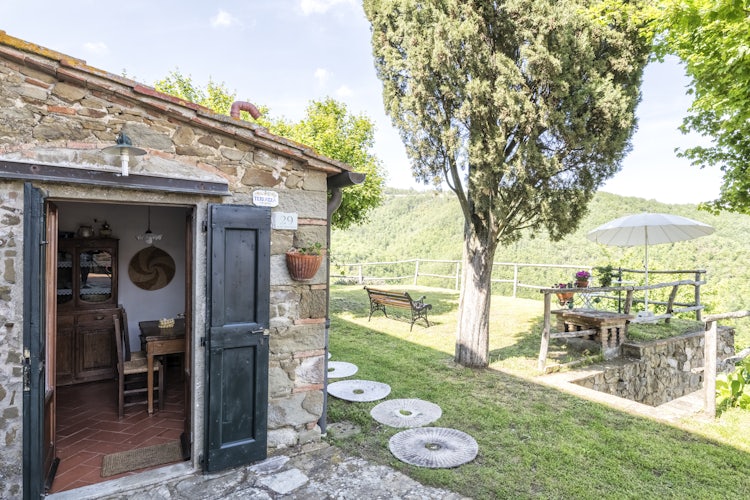 From May through September, the family lives directly at La Sala and is hand to welcome guests and offer assistance on anything, from itineraries to recommendations on nearby restaurants. With over 20 years of welcoming guests to La Sala, Carla and Sandro and their son Giacomo and daughter-in-law Anastasiya know what their guests require: privacy to their guests, as well as tips and suggestions on what there is to see nearby. Between the four of them, they also speak English, French & Russian.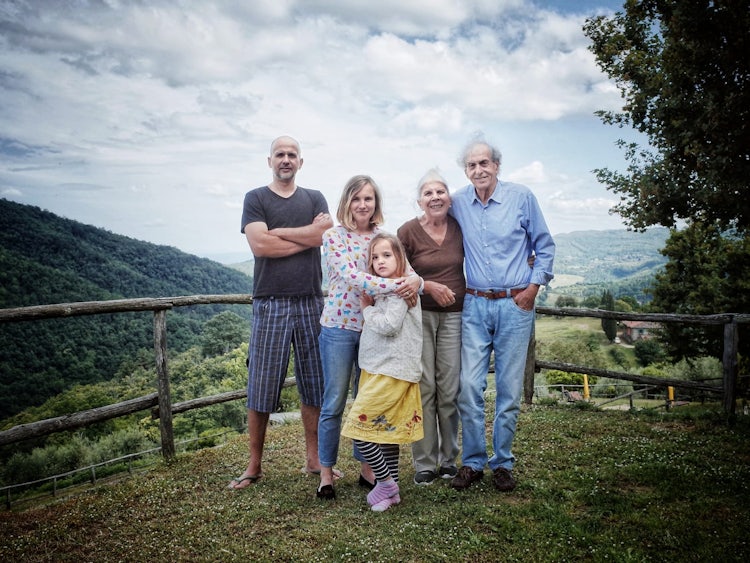 During these months, Sandro enjoys spending in the vegetable garden near the playground and guests enjoy its bounty: from tomatoes to lettuce to cucumbers, Sandro invites guests to go pick what they need for their evening meals. It will be impossible not to fall in love with La Sala and your hosts, as well as the natural beauty that Chianti offers.
While all guests will be welcomed with a bottle of wine in their apartments, guests who book directly through their website will arrive to find an entire welcome basket filled with local products such as the estate's olive oil and pasta.
Central location is ideal for exploring Tuscany
It will be hard to leave La Sala and its comforts every single day, so I recommend alternating your days: one out exploring Chianti, from Greve to Panzano to Castellina or Radda, with another day of staying put and relaxing by the pool or hiking or cycling (In Greve in Chianti, a shop has mountain and road bikes for rent, as well as Vespas for the more adventurous). You can drive into Greve for dinner or further to Florence to enjoy the city by night. San Gimignano, Siena and Arezzo are all possible destinations during a stay at Agriturismo La Sala. Enjoy the charm of the Chianti countryside with the amazing wonders of the medieval towns, Renaissance cities and delicious cuisine that Tuscany offers during your stay here.