Follow the Perfume of Tuscany
As the gate opened to the private rental property, Podere Villabassa, just two km outside of Montespertoli in the Chianti area, it was obvious that a caring and sapient hand was the mastermind behind the stupendous garden filled with roses.
My first impression was that Ilaria, Ruby and Francesco, the owners, all have a fantastic green thumb. But. They quickly corrected me...Ilaria's father is the architect of the finely manicured lawn and colorful blossoms which pretty much result in a paradise in Tuscany.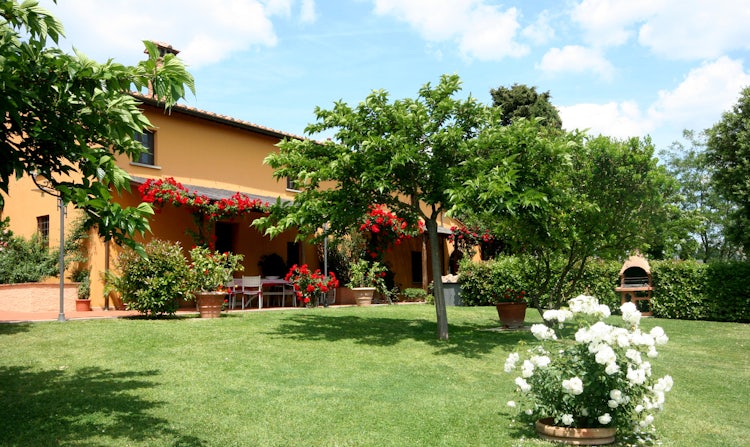 The modern accommodations are set in a striking Tuscan landscape, surrounded by vineyards, small towns and the distance chime of the church bells. Podere Villabassa embodies both the spirit and the substance of Chianti.
The two vacation rental apartments, which also combine for larger groups to become an independent Tuscany villa rental, are spacious, luminous and clean. I fell in love with them immediately - immediately after the gardens and the outdoor covered terrace.
Book Direct with Podere Villa Bassa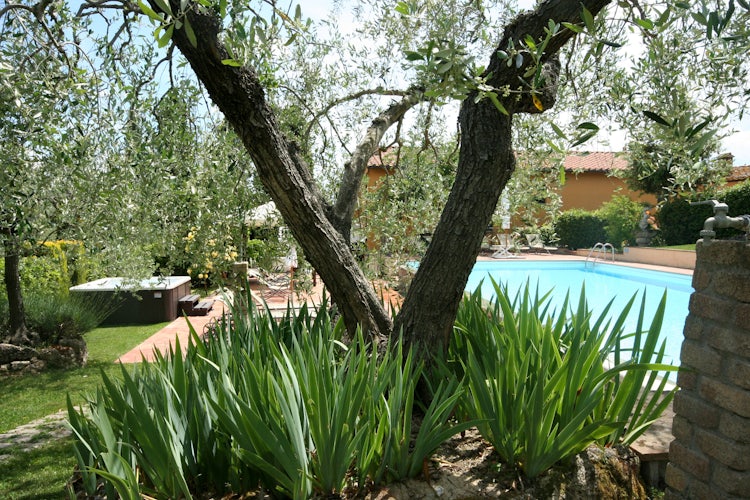 Finding Beauty in Tuscany
Montespertoli and the area surrounding Podere Villabassa are famous for their wine and extra vergin olive oil production - and not only, but also for their picturesque landscape and numerous small towns. Francesco, who owns a sartorial company creating leather jackets and clothing, told me how they had started to rent more as a whim. He admits, that personally he had always thought the area was perfect, a true slice of Tuscany, and over the years he has received repeated confirmation from his guests, they all say:
This is paradise.
Ilaria and Francesco escorted me through both apartments, the pool and the new addition in 2017, the hot tub, before settling down on the covered patio to begin our interview. My experience of over 20 years of visiting vacation rentals gives me a bit of an advantage - sometimes you think you have seen it all, good and not so good. However, the spacious interiors, the neutral decor, the clean bathrooms and creative architecture at Podere Villa Bassa created quite the impression. In particular their unqie capability to incorporate a clearly Tuscan character while remaining totally up to date with modern accessories: dishwasher, WiFi and AC.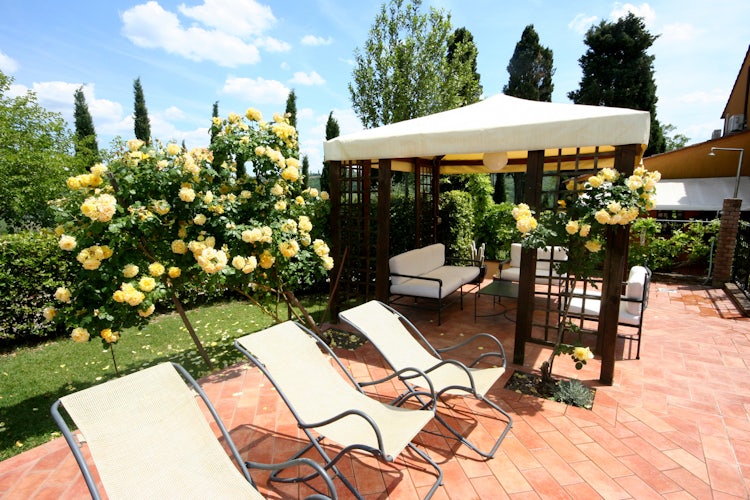 This is what being on vacation with the family, friends or large groups should be like. The apartments, set on two floors, were arranged to be versatile. Several of the double bedrooms provide space for adding a full size single bed. This is perfect for kids sleeping with parents, several kids in one room or two singles sharing a room. The kitchens looked just like the kind of area which encourage everyone to participate in the cooking (and the cleaning). If you aren't into cooking all day, then fire up the grill outside, or Montespertoli, with many restaurants and pizzerias is only a few minutes away.
A Review of Podere Villa Bassa
We loved: beautiful garden and fabulous covered terrace framed with brilliant rose blossoms. Can't help but mention the new addition: the hot tub by the pool! Absolutely loved it!
Ideal for: families, friends or groups who enjoy extra space - the apartments are huge, almost 200 m² each.
Apartment: "I Limoni" for 7 persons
The ground floor of this holiday apartment is comprised of a living room area with a large Tuscan styled fireplace, a comfortable kitchen and dining room. Next to the original gray stone stairs you will find one of the three bathrooms. On the first floor, there is double bedrooms with an extra single bed, a masterbedroom with a sitting room area and a bedroom with two twin beds that can be made into a double upon request. There is one en suite bathroom and a super large bathroom. That means you can sleep up to 7 persons in real beds and two on the sofa bed downstairs.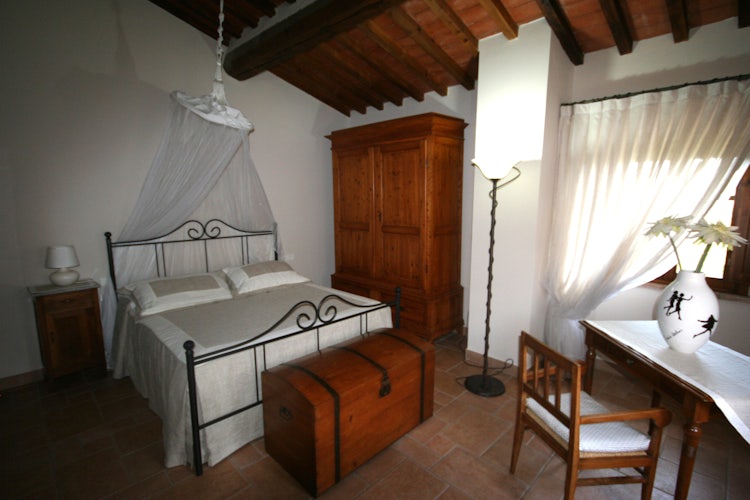 Apartment: "Le Rose" for up to 9 persons
Podere Villa Bassa in a Glance:
Type: self catering holiday apartments or vacation villa
Location: Montespertoli, 2 km
Distance: Florence (50 min) or San Gimignano (40 minutes)
Transport: a car is useful, however there is bus service at Montespertoli
Apartments: 2 apartments. There is a communicating door to create one large villa
Sleeps: 18
Type of board: Cooking classes & welcome basket
No need to ask where this name comes from - you can easily guess from either the row of white blooms that greet you at the gate, or the lush red blossoms crawling up the covered terrace. Directly next door to i Limoni is the rental Le Rose, this apartment is also approximately 200 ² and is also set on two floors.
You enter from the covered patio into a small lobby that leads into the kitchen, which includes a separate door to a side garden and the pool area. The formal dining room is next door; it will accommodate a large group.
The living room has a special curtain divider which allows you to transform this into a third double bedroom with some privacy. There is a bathroom on the ground floor between the stairs and the single bedroom. On the first floor there are two large double bedrooms, each with a loft and an extra single bed. There are two bathrooms stairs.
Separately or combined, these two vacation rental apartments provide lots of space for the guests.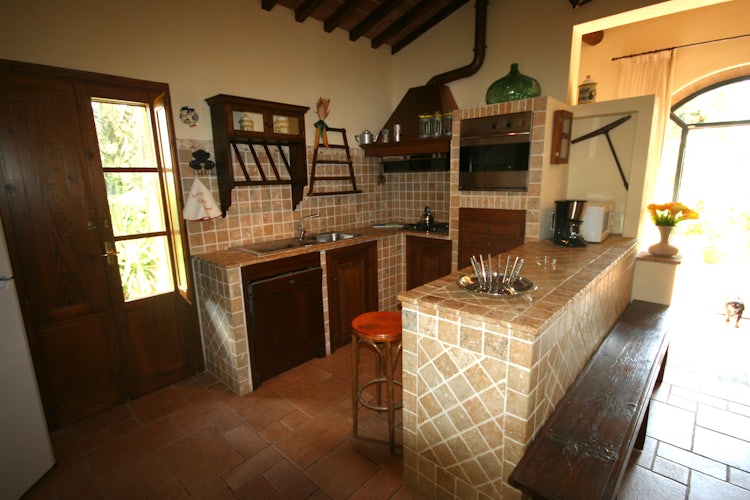 The Pool & the Gardens are Delightful
Absolutely! These two areas will be the highlights of your vacation! The large shared pool is furnished with recliners, tables, chairs and a covered gazebo for entertaining poolside. The landscaping includes aromatic plants and olive trees which create a green oasis around the infinity pool. The newest addition (2017) includes a 6 person hot tub, just begging for you to climb in and massage those travel pains and aches.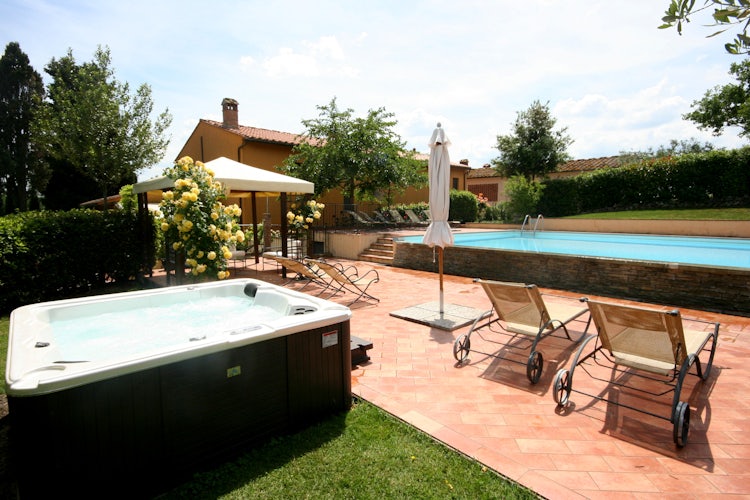 I most defintiely appreciated the covered terraces, imaging evenings outside watching the fireflies or afternoons nursing a chilled bottle of Chianti. When I inquired how the guests lived the terrace, Francesco explained that it has proved a great way to give everyone a chance to meet their neighbors and over the years he has often seen them combining forces for a BBQ dinner or a shared gelato party.
Apparently it has come in handy several times when guests are invited to share summer styled Tuscan meal with the family. For those who like to get their hands in the mix you can try cooking with "la Mamma", Marianna, who has the opinion that everyone should get involved.
Though right next to each other, the apartments each have a dedicated garden, separated by a tall hedge; the yard is finely trimmed and great for the kids. The adults though, will appreciate the enchanting Tuscan landscape that unfolds before them.
Check your Dates Now at Podere Villa Bassa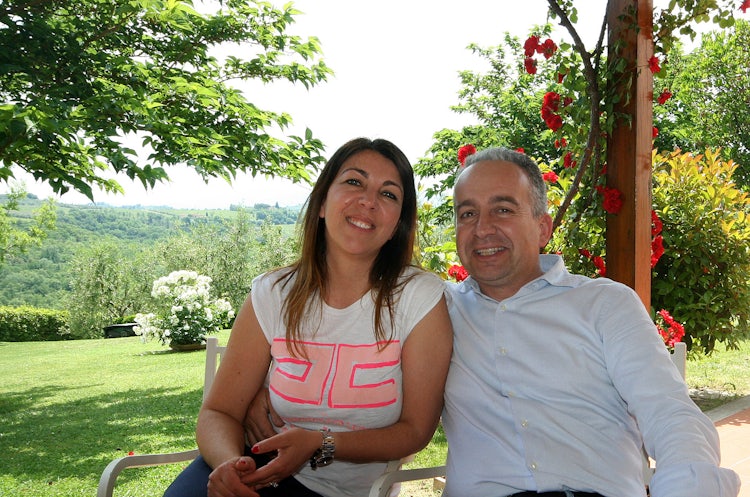 Sign me up! If I didn't already live in Tuscany - this would be the perfect place to take a vacation. The owners are both friendly, outgoing and quick to offer interesting and off beat suggestions of what to do and where to go - first stop is to visit the handmade leather jackets at Francesco's shop! Bring your family, bring your friends - or just yourself, but definitely check out this property for your next Tuscan holiday.
This is a Sponsored Article but reflects the honest opinion and experience of the author. More details »