Even the gray skies overhead could not overshadow the beauty of Pieve Marsina. This Tuscan retreat to the south of Gaiole in Chianti welcomes visitors to quiet and relaxation amidst vineyard-covered hills and woods. The last kilometer as you approach the restored Medieval village is on an unpaved road, called a "white" road in Tuscany and famous in this area because of the Eroica vintage bike race which takes place on these white roads every October. This lets you know that even if the main road is nearby, you will not hear any traffic and we can confirm this.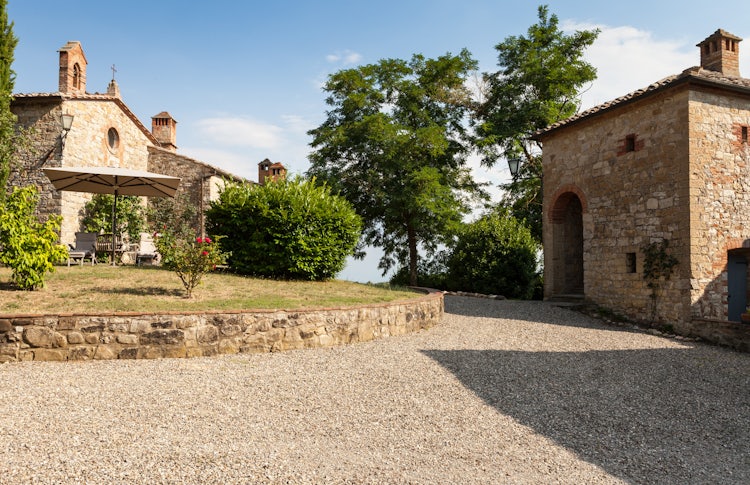 Pieve Marsina at a Glance:
Type: Apartment rentals
Location: Gaiole in Chianti, 13 km (15 min)
Distance: Siena (35 min) & Cortona (70 min)
Transport: a car is necessary
Apartments: 6 for 2 - 5 guests
Sleeps: 20
Type of board: Accommodation only, Cooking Lessons upon request
As we approached the cluster of buildings, our host Gabriele stepped out of his home and welcomed us to his little corner of Chianti, the same way he does all his guests. I turned all around and envied this "small corner" of paradise, enjoying the quiet and peaceful environment in the heart of the Chianti wine region. Given the starting drizzle, he led us inside into what used to be the village parish and today is home to the a sitting room and reception area, a general area for all guests to enjoy with a cup of coffee in hand. The chapel is at the center of the stone buildings that formed the small medieval village of Argenina and today hosts 6 holiday apartments for guests, an outdoor panoramic pool and an intimate SPA/Jacuzzi area.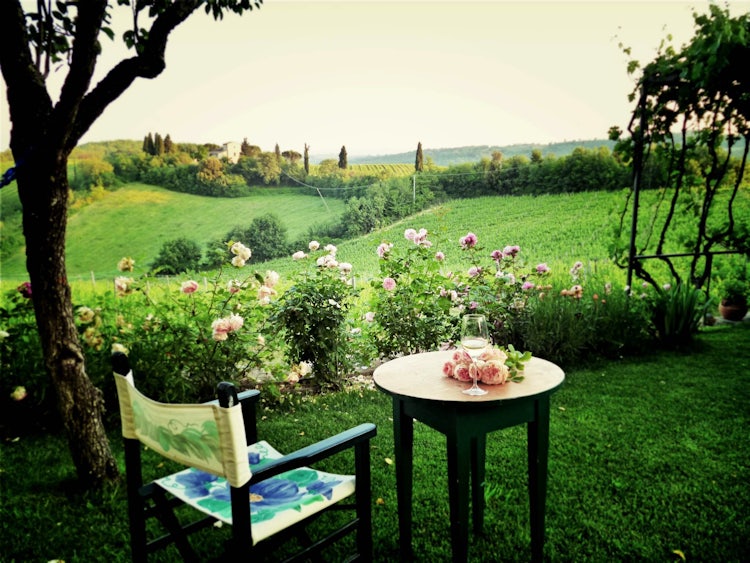 Hospitality runs in the family
Gabriele's style of hospitality is evident from the very beginning: welcoming yet never imposing. It is something that comes up over and over in online reviews of Pieve Marsina, we can confirm they are true. He welcomes us and starts telling us about Pieve Marsina, a little bit of its history and how long they have been welcoming people.
The Pieve Marsina came into Gabriele's family when his grandfather bought the property with tumbling abandoned buildings as a summer getaway in the 1970s, a place where he could grow some grapes and make some wine. The family spent their summers here growing up.
In the early 1990s, the entire property was renovated and started welcoming its first guests. Gabriele stepped into the family business of welcoming guests over 15 years ago and he keeps on because he loves coming into contact with so many people from different parts of the world. It is a way to travel the world without leaving home.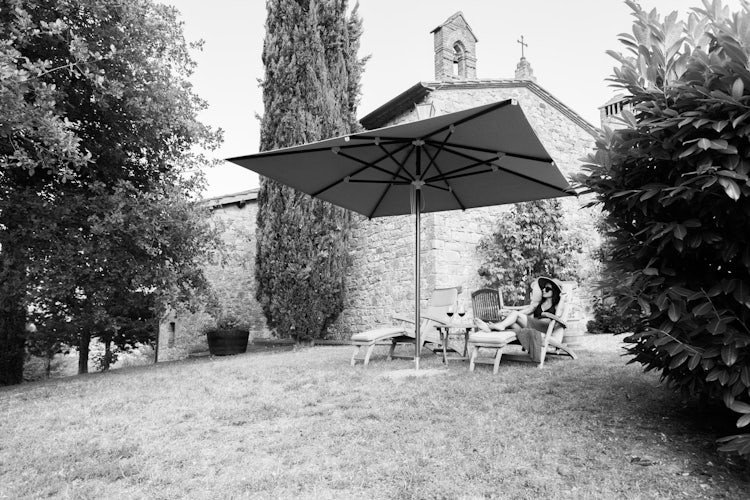 The estate has 6 apartments that can host from 2 to 4/5 people, perfect for both couples as well as small families or even a large group who wants to take over all of the apartments and have the estate to themselves. That has happened a few times, particularly when small weddings have been organized and hosted on the grounds in the past. They are furnished in a rustic Tuscan country style, common in farmhouses across the area.
Book direct with Pieve Marsina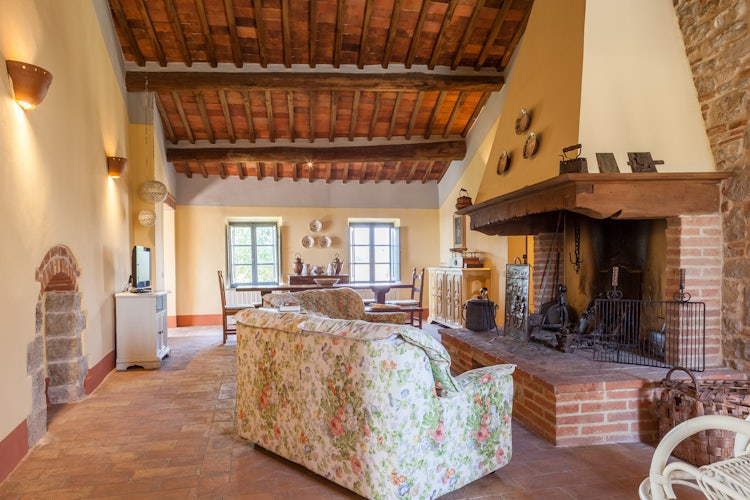 Perfect for families...
While the place looks perfect as a base from which to enjoy Chianti and Tuscany, I think it is ideal for families who want to relax and stay put by the pool in the late spring and summer. Gabriele confirms he often has families who rent an apartment for a week or two and just enjoy the views and easy living they can enjoy here. There is a play area set away from the apartments to provide the kids a safe place to play while giving parents the chance to unwind, without disturbing the peace for other guests.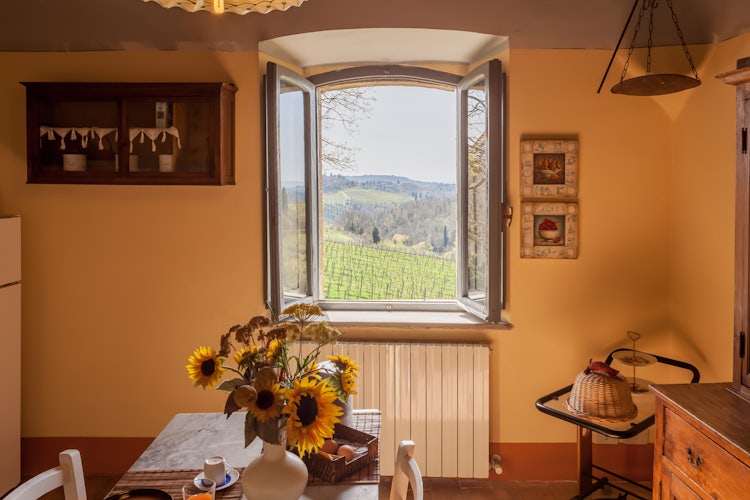 ... but also for couples
The smaller apartments are ideal for couples on a romantic getaway. The SPA with its Jacuzzi hot tub is also perfect for couples, particularly given the setting: a spectacular brick vaulted room that Gabriele tells us he prepares for guests with candles and background music before their reserved time to make it extra special and romantic. I imagine how great that would be, take a look at this photo to get an idea!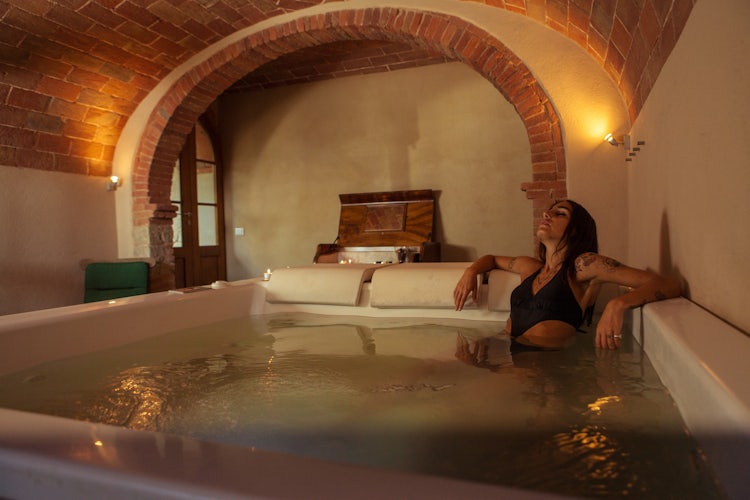 Central base ideal for visiting Chianti
A Review of Pieve Marsina
We loved: the quiet, the welcoming atmosphere, rustic furnishings and available host, plus the scenic views
Ideal for: couples, small families, ideal for exploring the countryside or just staying put and enjoying the views and silence
Gabriele is on site almost all of the time, giving guests his mobile number to use WhatsApp to contact him direcely whenever they need. He's available to help out in any way he can, from giving itinerary and restaurant suggestions to finding the best local butcher to organize a fabulous outdoor barbecue for dinner or organizing a cooking lesson in your apartment. He enjoys being part of planning a day out, but will provide space to not overstep any boundaries.
As for the area, he tells us a small shop in nearby village called Monti can be the convenient stop for anyone that doesn't want to go far for a few basic necessities, but you can also request a welcome basket to be ready in your apartment upon your arrival. It is clear that Gabriele will go out of his way to ensure that all of his guests enjoy their time at Pieve Marsina.
Interested in cycling through the hills in Chianti? Gabriele has a pair of bikes to let you borrow, but he also has contacts with local bike shops to get more professional bikes, either road or mountain, to go with your planned itineraries.
The free Wi-Fi can be a way to stay connected to the world and to modern conveniences, but you might just want to book an hour or two at the on-site Jacuzzi to relax.
Book direct with Pieve Marsina
Pieve Marsina is a haven, a lovely getaway for anyone wishing to leave their worries behind for a few days, a week or even two. The incredible views, the silence and welcoming atmosphere will make you never want to leave.... or plan your return soon after!