A vision of Chianti vineyards within walking distance of Greve
The long rows of grapes at the award winning wine estate Viticcio come into sight long before the traditional-styled Tuscan farmhouse and its 9 self-catering vacation accommodations.
Meeting up on-site with Alexander & his wife Alena, the owners and hosts, was the perfect opportunity to get to know the driving force behind the activity and growth at Viticcio. Both present themselves with an air of mystery, but once you hit upon their passions, Tuscany and wine, then they open up with enthusiasm. They choose their new home well, in a commanding position above the valley, yet at the same time it is a convenient walking distance to Greve in Chianti. As for the vineyards, they were perfect!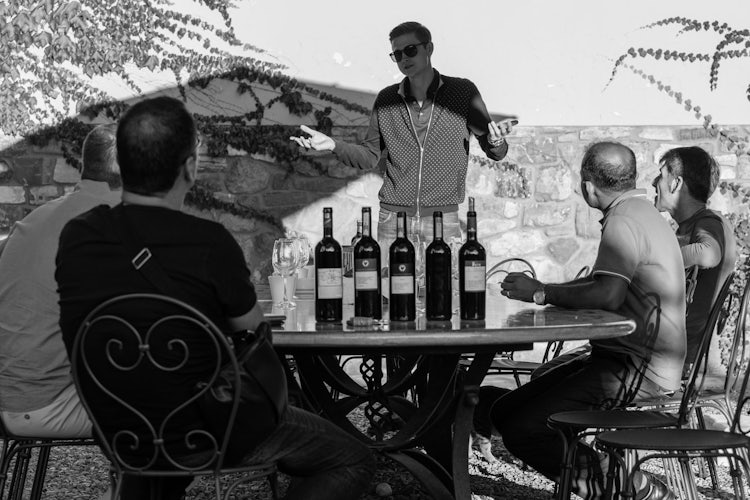 First, we toured the well maintained garden area dominated by the saltwater pool boasting a scenic view of Chianti vineyard-covered hills, flanked by a grassy field, children's playground and a soccer net, as well as picnic tables. Then, we walked around the cantina (wine cellars) watching the staff making adjustments to the fermentation vats right after the harvest and labeling the latest edition of wines. In both instances, the silence and splendor of the setting embraced us.
The balance between work and play, nature and man-made was exquisite, and I am inclined to believe making Viticcio holiday apartments your base for a stay in Tuscany would not be just a vacation but a hearty slice of authentic Tuscan culture: mixing nature with pleasure. Occasionally, there was a tractor in the distance, but other than that, there was just the calming sound of silence among the vineyards and olive trees.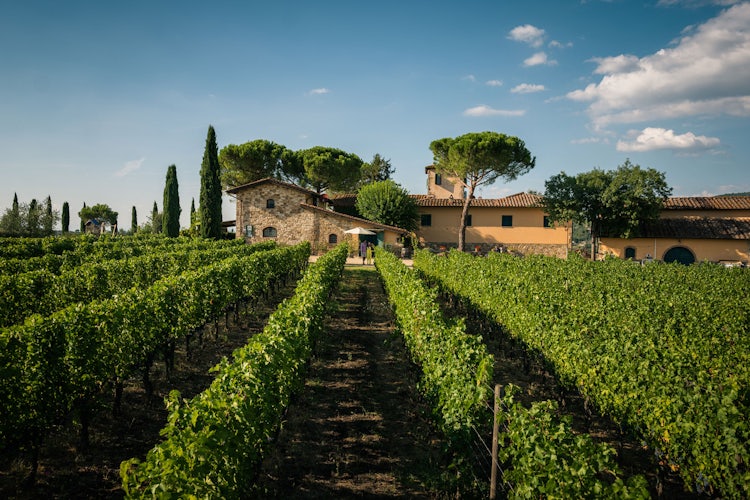 Tuscan Farmhouses near Chianti
A Review of Viticcio
We loved: only 2 km outside of Greve in Chianti, it is an easy walk through the vineyards to town, restaurants & public transport heading to Florence
Ideal for: families with children, those who are curious about how a real winery functions, those who are looking to immerse themselves in the Tuscan wine culture
The Viticcio farm stretches to the castle above and the valley below, encompassing over 30 hectares of vineyards, olive groves, forest and the farmhouse vacation rental apartments.
The stone farmhouses have been carefully restored over the years and now house 8 full service holiday rentals which vaunt a casual Tuscan style decor, with full access to a saltwater pool, garden with kids games and an American style BBQ in their personal outdoor space.
The interiors reflect a simple country style, with a wide array of modern accessories including Wi-Fi, dishwasher, air conditioning, and satellite TV.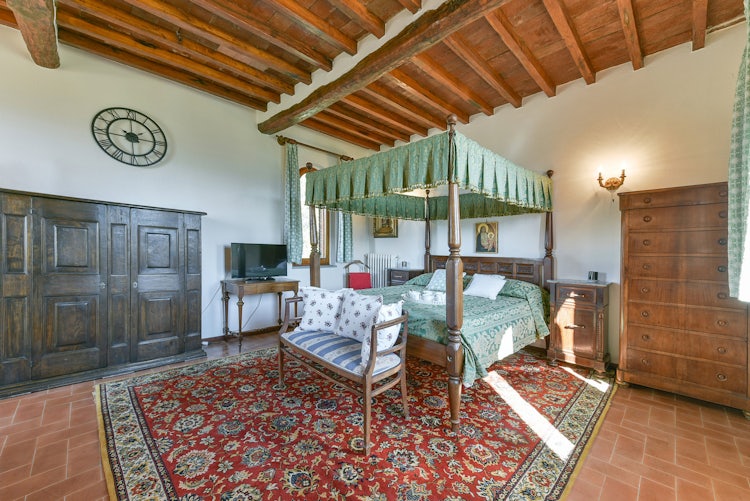 Alena was quick to point out that the apartments are in the heart of the farm, and that guests can really get a sense of what it takes to make great wine in Tuscany. But that doesn't mean that they won't have privacy and tranquility. Many of the apartments come with their own private garden areas, including tables and chairs for meals and enjoying the outdoors. Those few apartments that don't have a private garden, have a dedicated space overlooking the vineyards behind the houses.
The largest apartment is called Viticcio, and is approximately 100 square meters with three bedrooms and two bathrooms. Especially nice is the balcony area and the romantic four-poster bed. I particularly liked the rich colors and textures of the linens.
I also visited the apartment Beatrice, on the ground floor with a secluded patio looking over towards the large pool and grassy area. Set on two floors, the kitchen and living room area are designed to encourage time together cooking meals with all those wonderful Tuscan ingredients.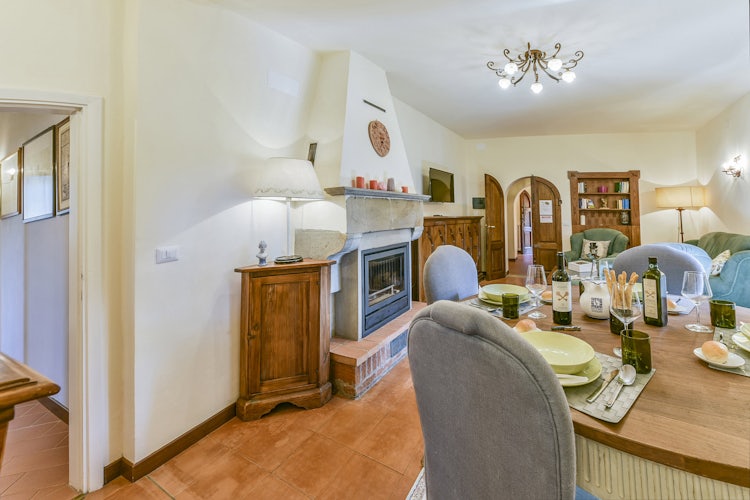 Special Kind of Luxury
Viticcio at a Glance:
Type: self-catering holiday apartments & vacation villa
Location: Greve in Chianti, 20 minutes by foot
Distance: Florence (45 min) or San Gimignano (50 minutes)
Transport: a car is useful, however, there is public transport to Florence in the town of Greve
Apartments: 9 apartments
Sleeps: 42
Type of board: self-catering with free breakfast basket provided. Upon request, meals can be arranged
The newest addition to the accommodations at Viticcio includes the deluxe apartment with private pool and garden. The apartment Belvedere was designed to please and maybe even spoil you just a bit.
There are two double bedrooms with a dedicated bathroom each and one master bedroom suite with an extra large bathroom and a connecting bedroom for the kids with two single beds.
The Belvedere apartment features a super-equipped kitchen (large oven, refrigerator and a wide selection of kitchen appliances) and a combined living room and dining room area with a focolare (also known as a traditional Tuscan fireplace).
Alena used original artwork, handcrafted furniture and a soothing selection of colors to create an environment that is more than welcoming, it will lull you into complete relaxation. With more than 220 square meters, the Belvedere Apartment will host up to 10 persons, with a total of 4 bedrooms, each with their own flat screen TV and AC unit.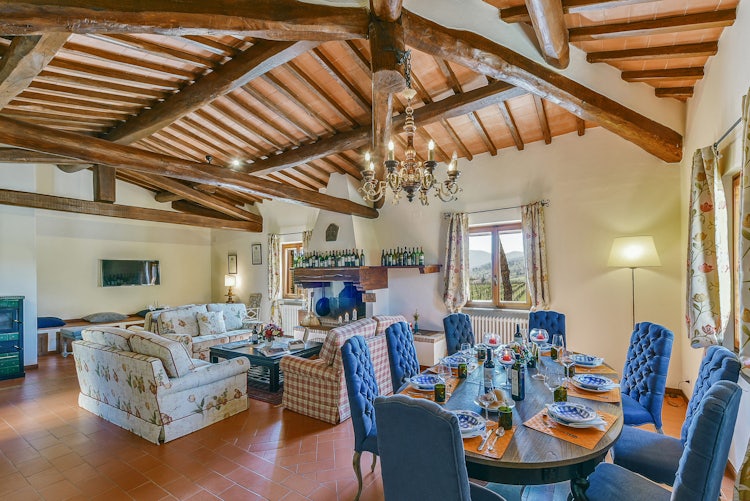 Invested Heart & Soul
It was the family's passion for wine that led them to choose Tuscany, and more specifically the vineyards just outside of Greve in Chianti, as their new home. Alexander will tell you that he doesn't have much of a nose for the wines but he definitely has dedication to learning the ropes of the trade and enjoys participating in the growing process. He is present and engages in all the decisions for the estate's wine and he loves that the vineyards are the setting for the holiday apartments, where his guests can appreciate not only the stunning scenery but participate in the basics of making wine.
My family and I have travelled Tuscany and France looking for a vineyard and it was Tuscany that won. We didn't just move here. We have our life here now: in Chianti, in these holiday rentals, and especially this vineyard.
The Chianti landscape will surely seduce you the same way it did Alexander and his family, and even if you are not as enthusiastic about wine as they are, you can't help but love the position and panoramic views.
If you love the idea of being able to walk into town to shop at the market and get your bread hot out of the local bakery, then this is perfect. Only a 2 km walk on a back country road will have you at one of the many cafès for an early morning cafe latte or an afternoon aperitivo. And for those guests who have heard stories of parking and ZTL zones in Florence, you can make use of the regular bus that will take you to the city center and the train station in Florence.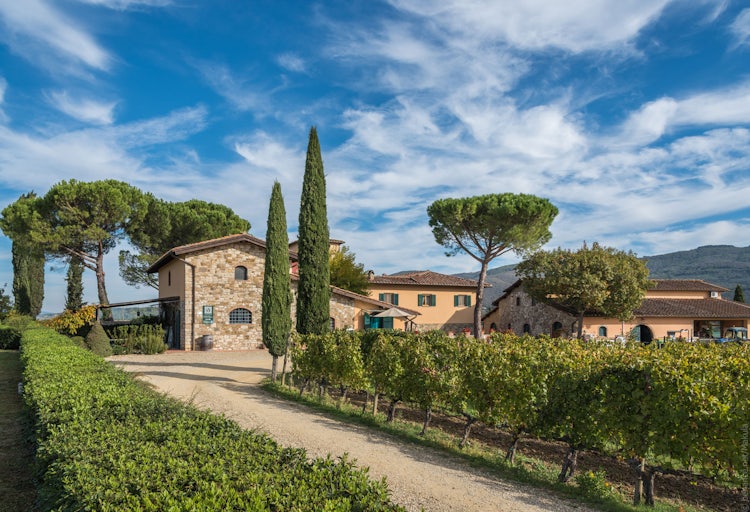 Book Your Holidays Direct at Viticcio
A Well Rounded Vacation Experience
In addition to the many services and comfortable accommodations at the family run wine estate, it is also possible to participate in a tour of the winery and enjoy a guided wine tasting of their products. Upon request, the Viticcio sommelier can arrange for you to visit the vineyards, taste local products and even have you meet the enologist to experiment making your own special blend of Sangiovese to make your own Chianti wine. They also offer breakfast baskets and a chef who will come in and prepare meals for you - or even offer a cooking lesson in your apartment - where you savor the end results with a tempting glass of Viticcio wine.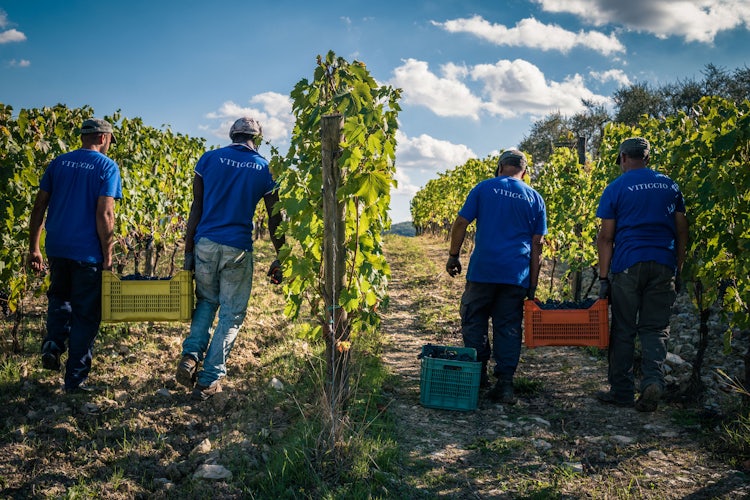 There is no other way to say it, Viticcio is Tuscany showcased at its best. Besides the 360° panoramic views of vineyards, olive groves, castles and small medieval hamlets, Viticcio offers the heart of Chianti. The ideal position close to Florence makes day trips easy, either on your own or with public transport. But for those who just want to relax, the large garden, spacious apartments and quick walk to town are just perfect for a full immersion into the culture and holiday spirit.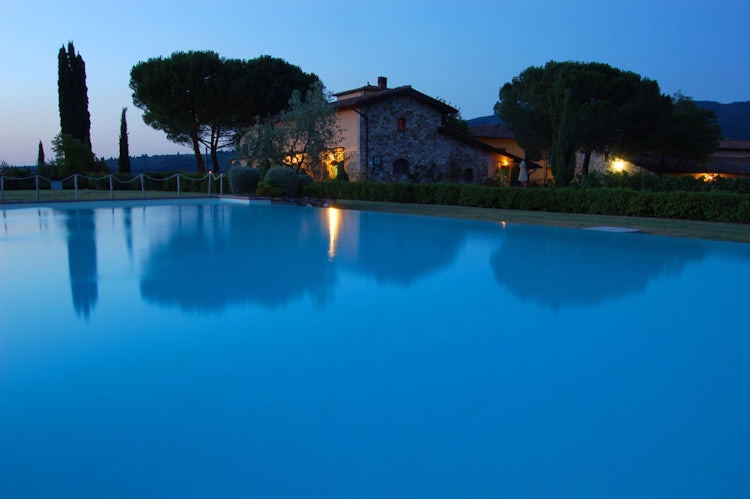 This is a Sponsored Article but reflects the honest opinion and experience of the author. More details »